Hey Everyone!
Just wanted to let you know of the annual Umbra sale happening at the International Centre on Airport Road this weekend only. Why is this important? Well, this is a great time to find expensive items for cheap for your wedding! Two years ago, Elton and I bought our centrepieces there. They were metallic flower bouquets and we still keep some on our bedside table:
With a retail price of $50,  it was an amazing steal at $5 at the sale! It's also available this year, if you're interested in a similar theme. We were able to go today as today is a VIP event and we were lucky to score some VIP tickets in advance to beat the rush.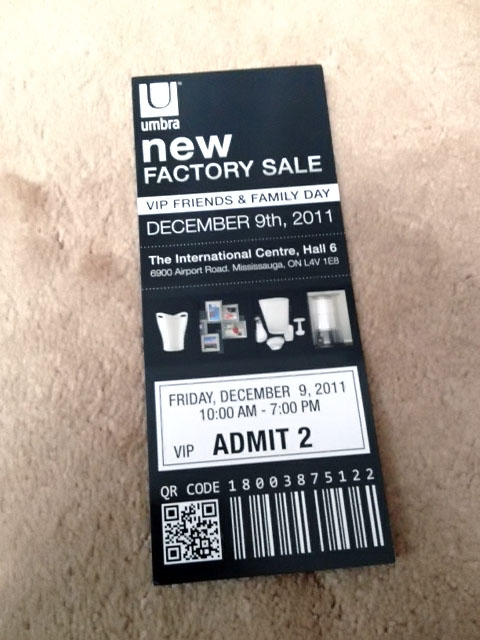 Surprisingly, it was still jam packed, so technically we didn't beat the rush after all:
In addition to all the kitchen and bathroom wares you can purchase at this sale (and there are many, such as countless supplies of draping rods), there are tons of little trinkets you can buy as materials for your centrepieces, accents, guest favours, table number indicators, etc. Here are a couple of potential centrepiece ideas I snapped at the sale:
And here are some more items we bought and took home:
And some ideas for your table numbers:
There are many more items for you there. For example, there are leather bound photo albums, wedding guestbooks, and many different types of photo frames, even some for you to put your large wedding photos in (16×20, 13×16, 11×14, etc). I have no doubt tomorrow will be a zoo, everyone with their makeshift shopping carts (dollies with boxes). Remember to dress warmly and understand that it's going to be a very long line up to get in, and a very long line up to pay:
Hope you enjoy the shopping and find some good and cheap items for your wedding!
Love,
Carmen