Pantone LLC, universal authority on all things color, has announced over the weekend their choice for Pantone Color of 2012 – Tangerine Tango. For those of you who don't know what that color is, here is a swatch to help: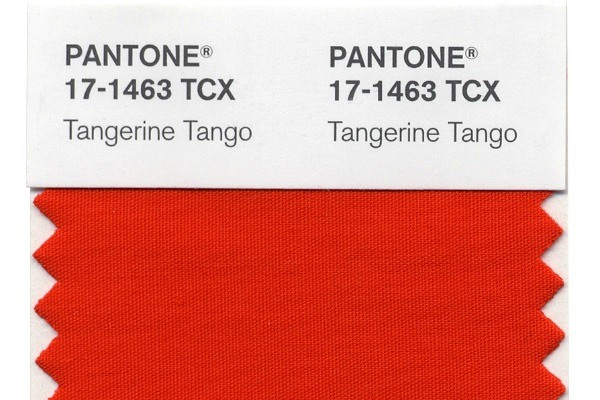 From their press release:
Tangerine Tango, a spirited reddish orange, continues to provide the energy boost we need to recharge and move forward.
"Sophisticated but at the same time dramatic and seductive, Tangerine Tango is an orange with a lot of depth to it," said Leatrice Eiseman, executive director of the Pantone Color Institute®. "Reminiscent of the radiant shadings of a sunset, Tangerine Tango marries the vivaciousness and adrenaline rush of red with the friendliness and warmth of yellow, to form a high-visibility, magnetic hue that emanates heat and energy."
Over the past several years, orange has grown in popularity and acceptance among designers and consumers alike. A provocative attention-getter, Tangerine Tango is especially appealing in men's and women's fashion. Fashion designers featured in the PANTONE Fashion Color Report Spring 2012, including Tommy Hilfiger, Nanette Lepore, Cynthia Steffe by Shaun Kearney, Elie Tahari and Adrienne Vittadini, are incorporating this attractive orange into their spring collections. A fun, lively take on a traditional autumnal hue, Tangerine Tango will surely carry through to fall fashion as well.
A winner in cosmetics because of its versatility, Tangerine Tango is a bit exotic, but in a very friendly, non-threatening way. Add a sultry flair to lips, cheeks and nails with Tangerine Tango. An unexpected eye shadow color, Tangerine Tango is a complementary opposite that flatters blue or green eyes. When paired with brown eyes, it brings out an amber cast.
Energize interior spaces with Tangerine Tango patterned home accessories. Pillows, bedspreads and tabletop accessories in this high-impact hue add spice to any room. Or incorporate Tangerine Tango appliances and personal electronics for an unexpected pop of color. Looking for an inexpensive way to perk up your home? Paint a wall in Tangerine Tango for a dynamic burst of energy in the kitchen, entryway or hallway.
I don't know about you, but the color reminds me of the autumn we just had. Can it be that we're going from winter colors back to autumn colors? I think it'd be funky to see an orangy-themed wedding!
For those of you who need assistance finding the correct color swatch, here's a guide: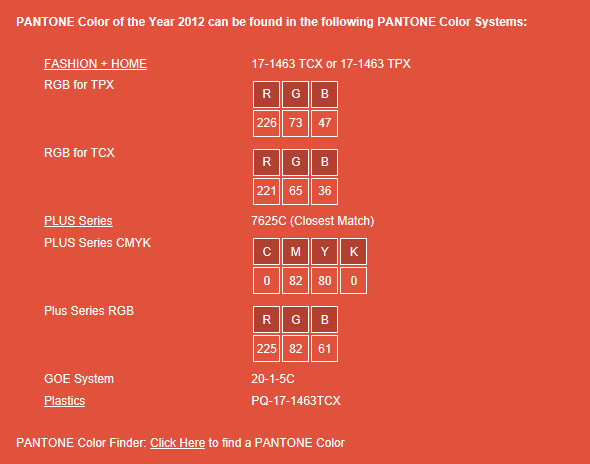 To kick off such an extraordinary color for 2012, I've made the background color of the blog Tangerine Tango for the next week!
Cheers,
Carmen