Destination Wedding Invites
With wedding season in full bloom, invitations have been sealed, signed and delivered. If you're planning a destination wedding, have you thought about your Save the Dates, Invites and even your "day of" Itinerary?
Here are some tips to help plan and select all of the invites and programs you'll need for the perfect wedding away.
Save the Dates
Due to the nature of a destination wedding, it's always best to let your guests know about your wedding as far in advance as you can. They'll need time to plan for time away from home. If possible, plan to give your guests at least a year notice about your wedding date and location, as they may need to plan for vacation time.
Save the Dates are a great way to show your personality and showcase your destination wedding.
Using different shapes to mimic travel documents is a popular go-to for Destination Wedding Save the Dates, like this Save the Date luggage tag: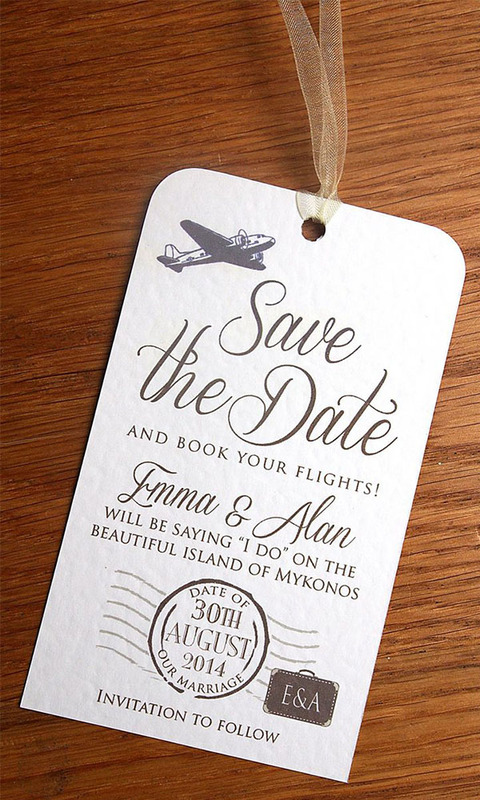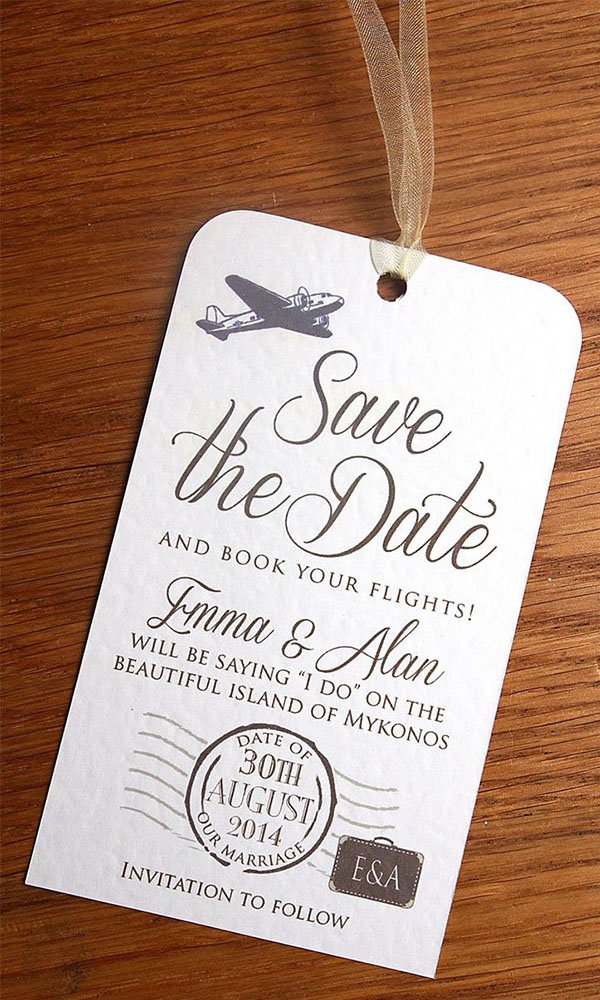 Photo: weddingandgems.co.uk
There's also the classic boarding pass, which perfectly sets up the Save the Date with all of the crucial information guests will need: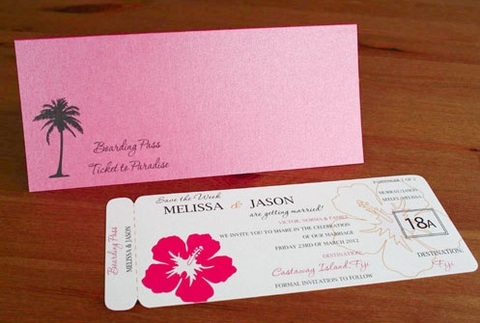 Photo: hootinvitations.com.au
The possibilities for great Destination Wedding Save the Dates are endless, and of course Pinterest has great samples to start you off on the right foot.
Invitations
Much like the Save the Dates, Invitations for Destination weddings can be personalized to match your destination theme and your personality. The Invitations should have more information regarding your destination of choice, including the specific date you've selected, the travel dates, resort/venue information and contact information for your coordinator.
A popular Destination Wedding Invite is the passport theme, which is a great way to display the important information as well as a great photo of you both. Here's a great example of how to use up the space effectively:


Photo: weddingpaperdivas.com
Another great option is using a map, either as the background of the invitation itself, or as an envelope, as seen below: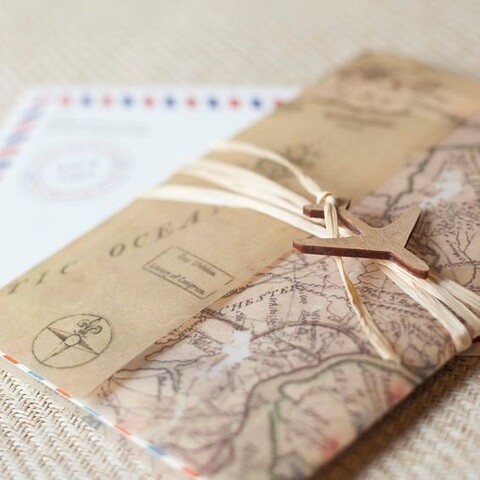 Photo: serendipitybeyonddesign.com
You may also want to keep your guests up to date using a wedding website, like http://www.ewedding.com/ for example. Using a website is a great way to push information to guests, and can provide a great medium for extras like engagement photos, registries and more.
Wedding Program
Something that is sometimes forgotten, but is very important, is the wedding program. At a Destination Wedding, guests are often without cellphones and email, and thus can be harder to reach throughout the week. A Wedding Week and a Wedding Day Of program can be a great resource for guests to keep up with all of the events you have planned.
Here's a great example of a wedding week program that will keep guests informed, and give them options for different activities they can participate it: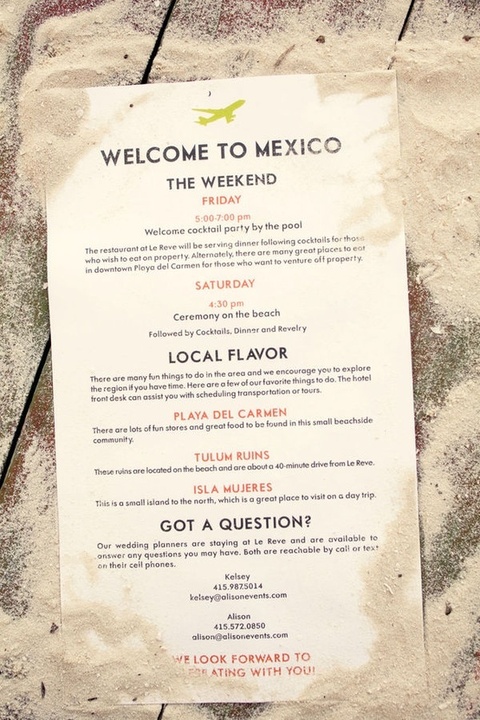 Photo: pacoandbetty.com
For the day of your wedding, a program is a useful way to direct guests to different locations at specific times. Often the ceremony and reception venues are at different locations, which can be confusing for guests especially at large resorts. Creating a program is a helpful way to combat confusion and to keep all guests on the same page. Here's an example of a multi-purpose program, which doubles as fan:
Photo: diyweddingsmag.com
Wedding Invitations are usually a dreaded topic, but remember they can be fun and personal, and a great way to get the information your guests need right to them. Programs are also a useful way to organize guests and ensure your perfect day goes off without a hitch!