What do you do after a totally amazing Pride Parade in the most diverse city in the world? Get married, of course!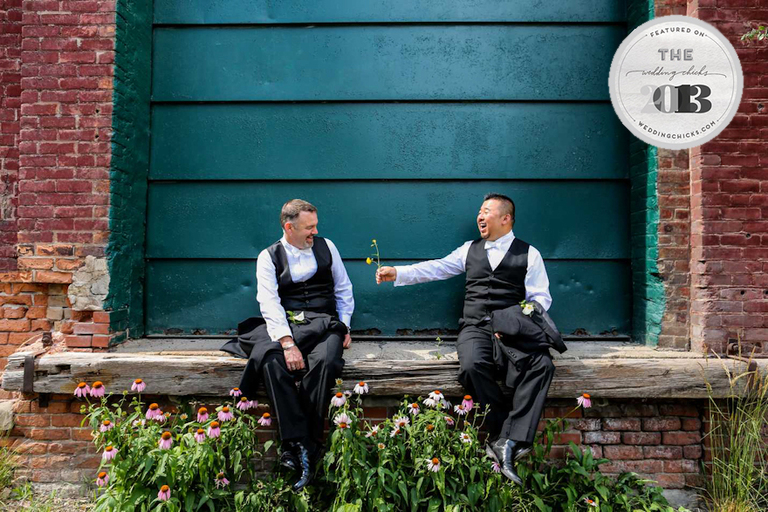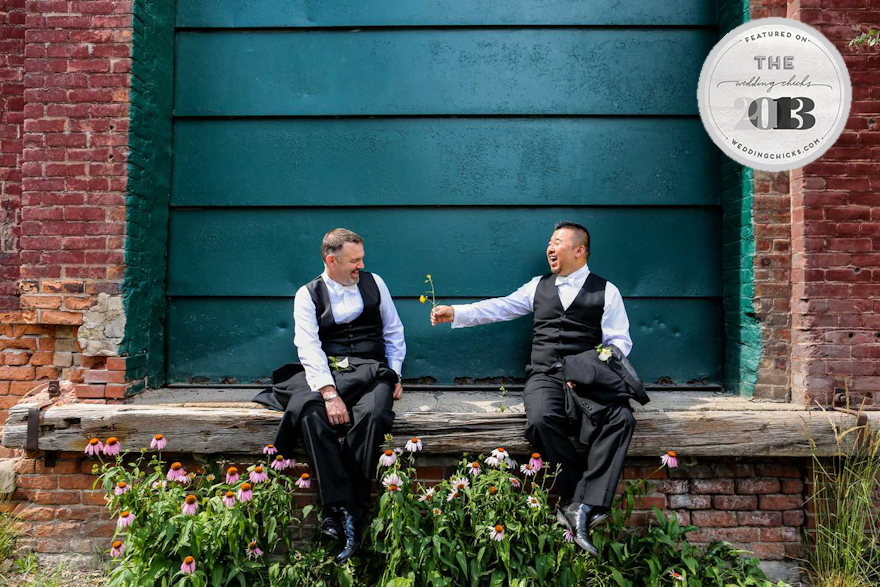 We totally hit it off with our couple Dave and Zuimei, who, after going out for ten years, decided to tie the knot on July 2nd 2012, a day after the Pride Parade. We had a wonderful time at Archeo in the Distillery District and the weather was perfect for an outdoor wedding. This time, we're mixing it up a bit and let one of our couples post some comments. Here are some thoughts and kind words from Dave:
"Zuimei and I met ten years previously at gay Pride in Toronto. He asked me out and 10 years later we were hosting our wedding! As luck would have it, I even have a picture from the first day we met.
We wanted an intimate wedding with lots of personal touches, but with him living in Japan we knew this wasn't going to be easy.  I wasn't relishing the idea of organizing such a big even by myself, so I hired a wedding planner. Carmen Luk from Devoted to You kept everything running smoothly.
The planning started with the theme of our wedding and colors.  The colors were his favorite color: yellow, and my favorite color: blue.  The theme was birds which come from a tattoo I have on my left arm.
We carried these colors through our invitations, which were letter-pressed by Papillion Press.  I used to be a printmaker and so I have a penchant for nice print work and I wanted the invitations to be little works of art.  Papillion Press made an incredible set which included the bomboniere inserts and the thank you cards.  They were so nice I had several guests ask for their RSVP cards back as keepsakes!
We looked at lots of venues in and around Toronto, but settled on Archeo in the distillery because of its intimate and rustic atmosphere.  We thought it would be a real treat for our family out West, where there is not much in the way of exposed brick and something totally different for our guests from Japan.
Food is very important to us. Toronto has some of the best food in the world, and not all of it is expensive either. We wanted to avoid tastes that our guests could get anywhere and avoid any "Asian fusion" related foods. With our guests in mind we were able to customize the menu to have a "Canadian" theme with all the food originating in Canada from the Prince Edward Island, Lucky lime Oyster for the amuse bouche to the Maple Crème Brulee for dessert.
Being good hosts is very important to the two of us; we decided to have a hosted bar with a signature drink, the Starlight Royale. Contrary to most weddings we asked the restaurant to serve us last, ensuring that our guests had everything and anything they wanted prior to us being served. Archeo put together an amazing menu where guests had a choice in each of the four courses. It allowed couples to each order something different and share, which is the way we normally eat at home.
The décor was mostly done by friends and ourselves. I made a blackboard from a piece of plywood and chalkboard paint and put it in an old gold frame I had from a mirror that broke. Using a digital projector I drew out outlines of birds and the main text which was in the same font as the invitations. The table seating wasn't decided until the last minute, so those were added later. For the corresponding table numbers I ordered square gold frames online through Etsy. Using photo editing software I super-imposed a number onto printed photos of the two of us together.  Each table had a different photo, and number 7 was from the day we met.
For the décor we wanted to keep things simple.  Archeo has a lot of character and some fantastic artwork so we focused mainly on the tables.  We bought two lengths of linen from Fabricland, yellow and blue, and had a good friend sew the table runners for us.  The tables were rough wood so we didn't want to cover them completely; the runners were a nice way to add a little color while keeping the rustic feel.  The head table however had the added color of the blue runner.
We also added some small features for our guests and ourselves. Rather than having a guest book a friend printed out a tree with small birds on it.  Each guest provided a thumb print as a leaf and signed their name or a small message next to their print.  It turned out beautifully.
A good friend of Zuimei's gave him a stunning red Kimono with ornate stitching on it. It would normally have been worn at a traditional Japanese wedding.  We hung it from a stand and set up a camera so guests could take photos of themselves with the kimono as a back-drop. We ended up with a wonderful collection of candid shots.
Just down the street from our house we have an excellent flower shop, East of Eliza, so they were a natural choice to do the flowers for our wedding. They're close to our home and we buy the plants for our garden and home from them, so we already had an existing relationship.  With their advice, we went with blue Delphiniums and yellow Calla Lilies for height and white Hydrangea to add some body. Again, thinking of our guests we purchased the vases ourselves rather than renting them in case someone wanted to take an arrangement home.
The bomboniere were customizable Starbucks tumblers with yellow and blue inserts in them.  The birds on them came from the invitations and tied everything together but we didn't want them to say "Dave and Zuimei's wedding" since we wanted them to be a little more subtle.
It was a perfect evening.  From the weather, which was sunny but not to warm, to the food, to the way guests intermingled, there was nothing I would have changed."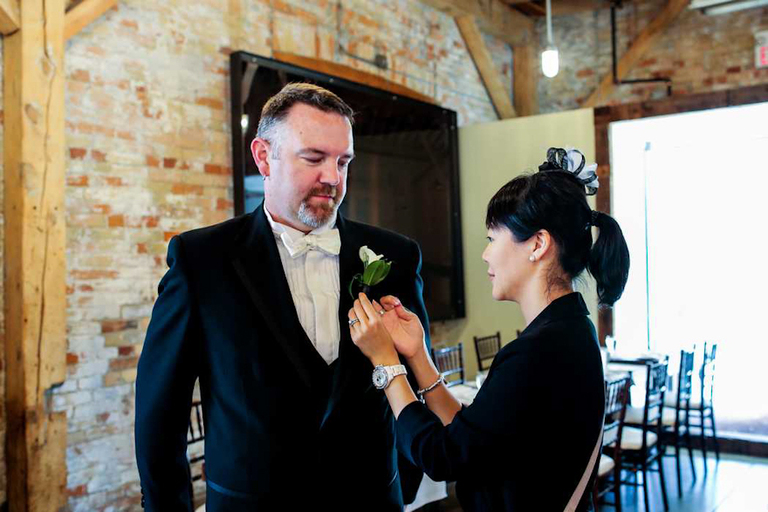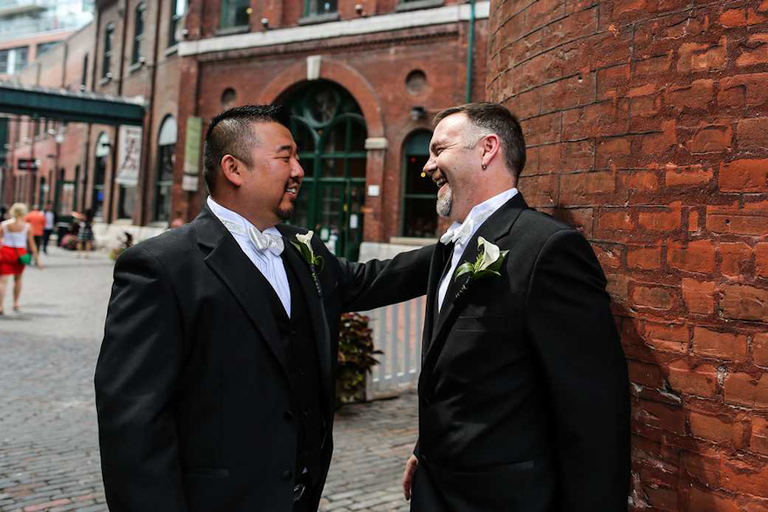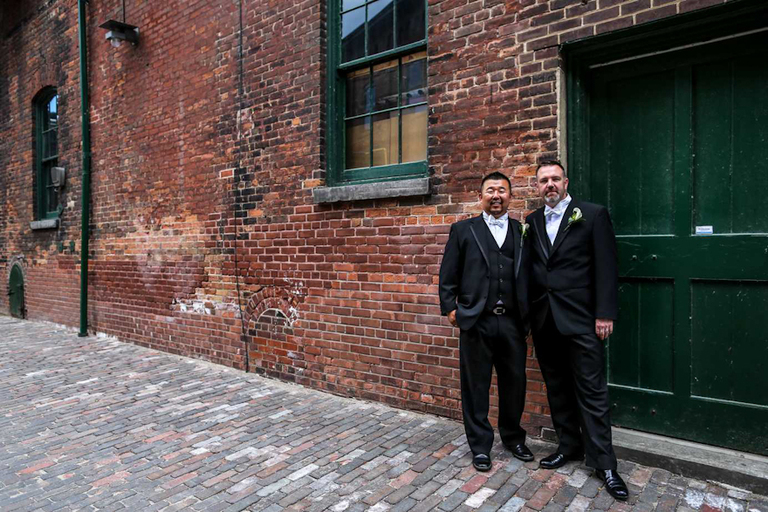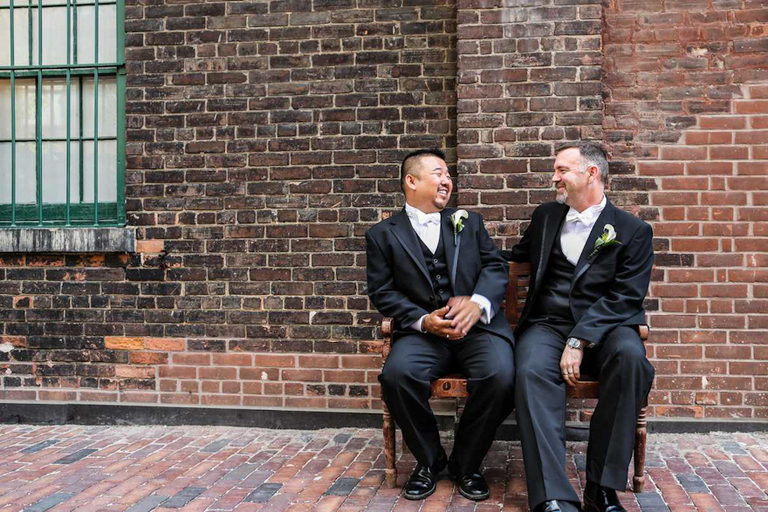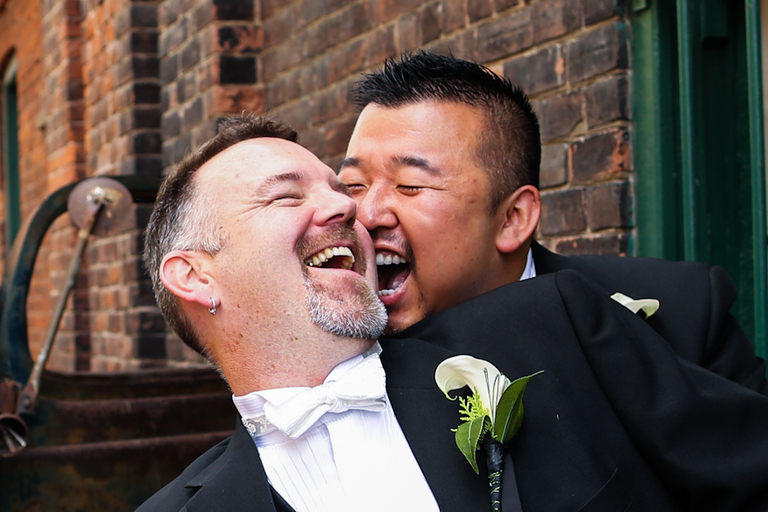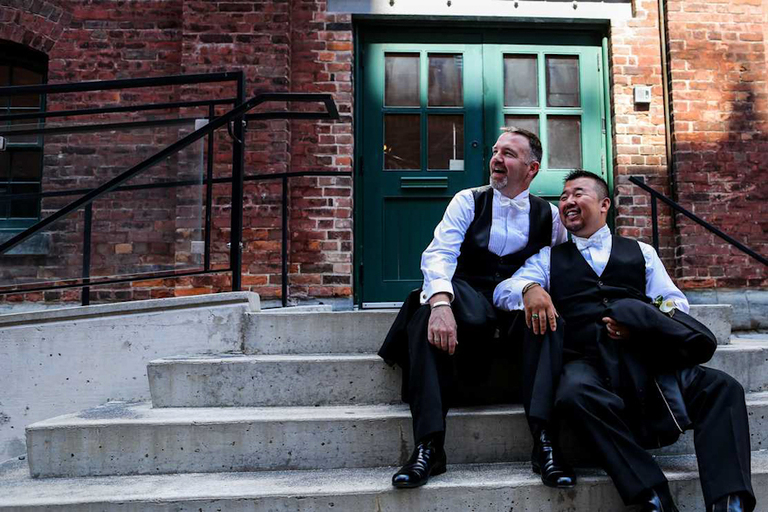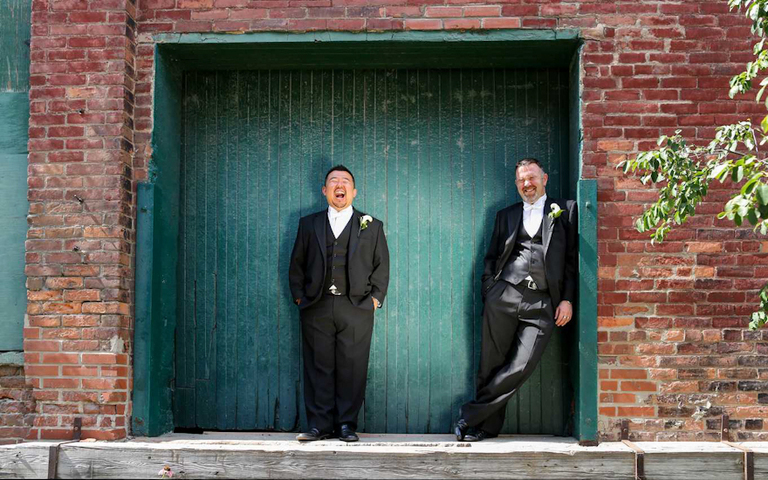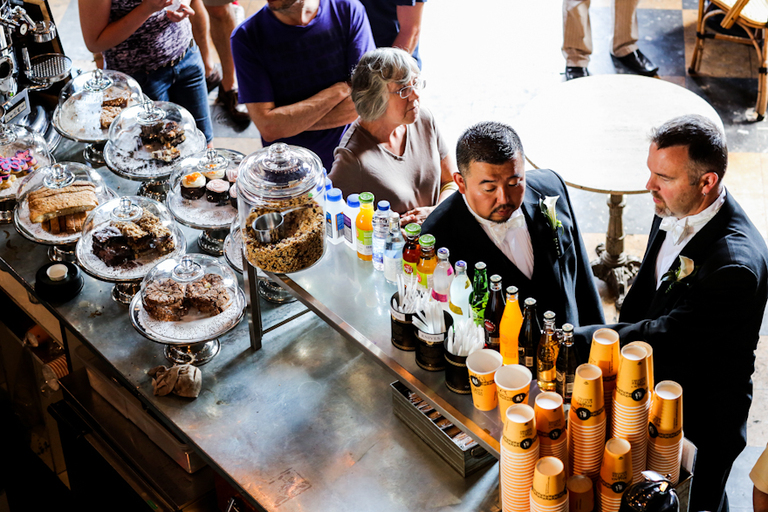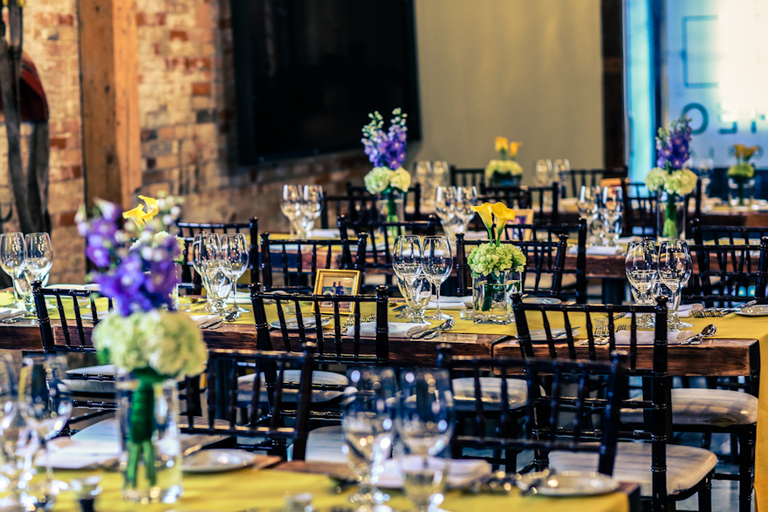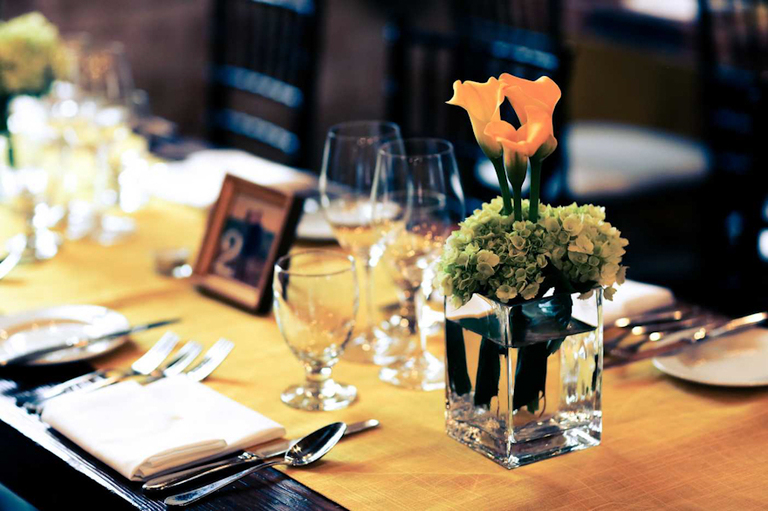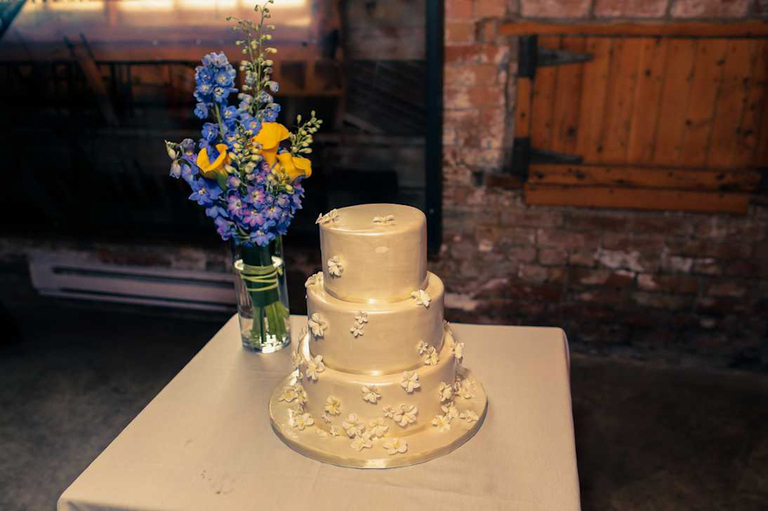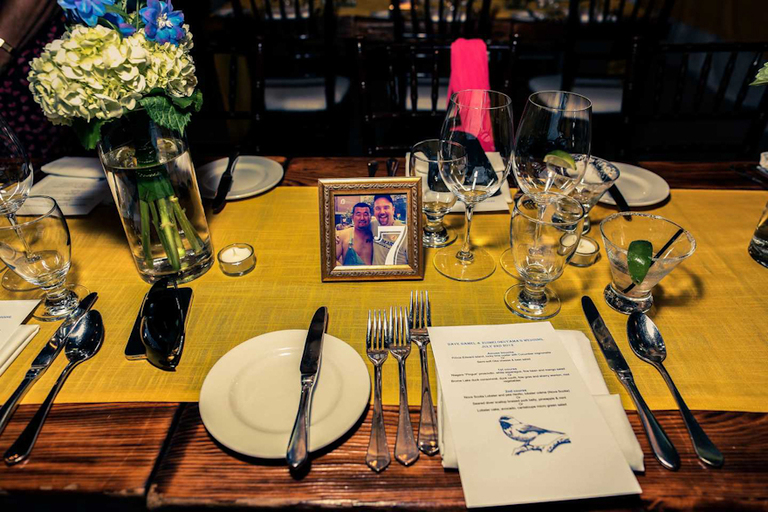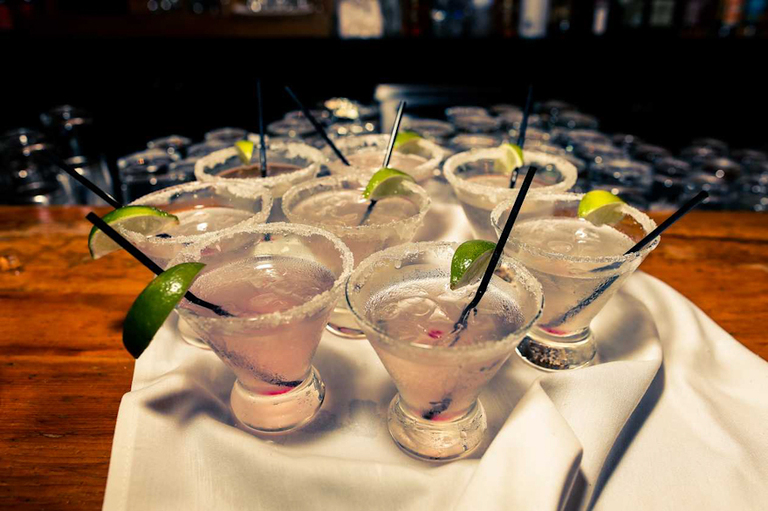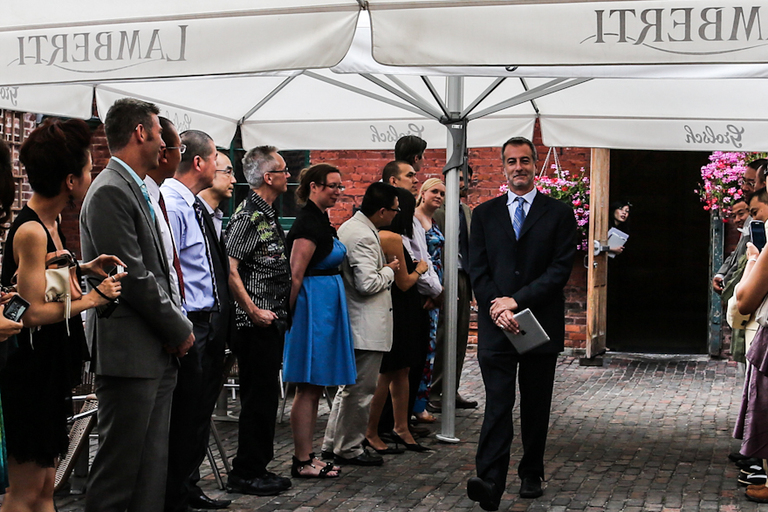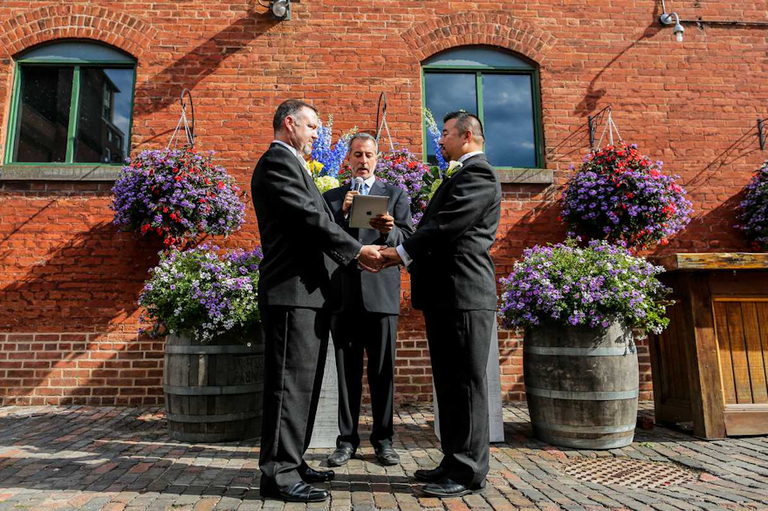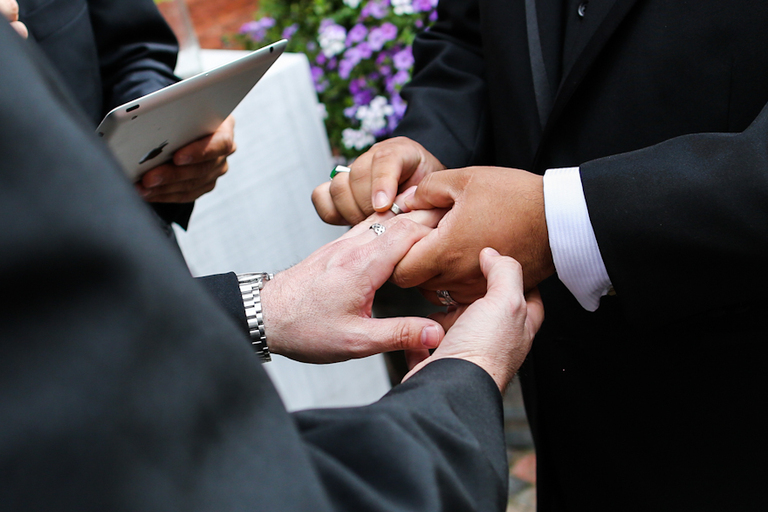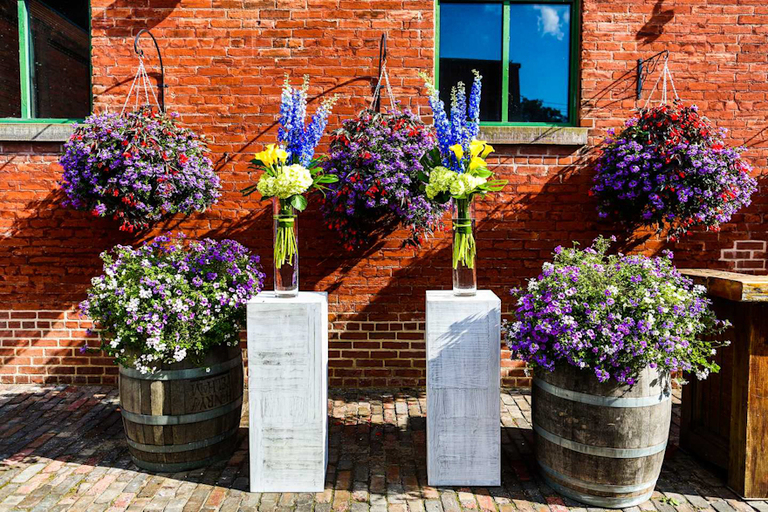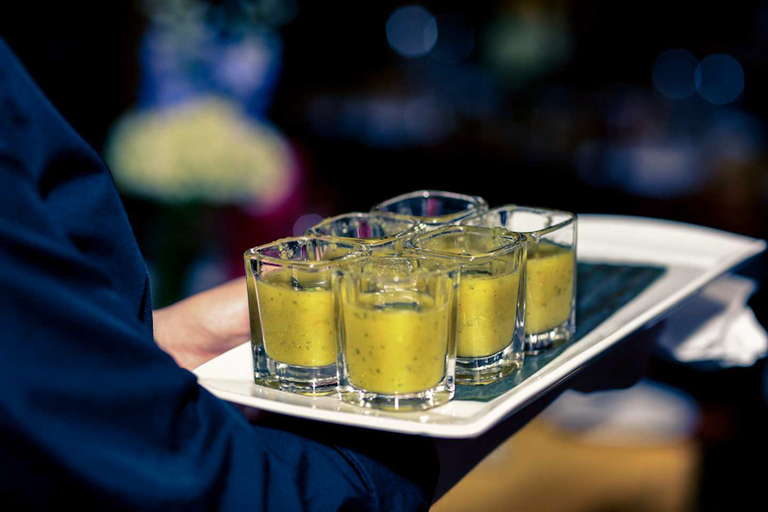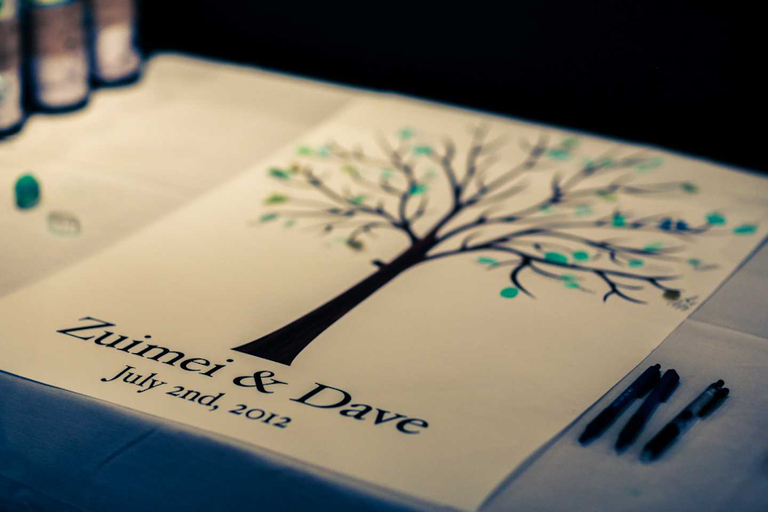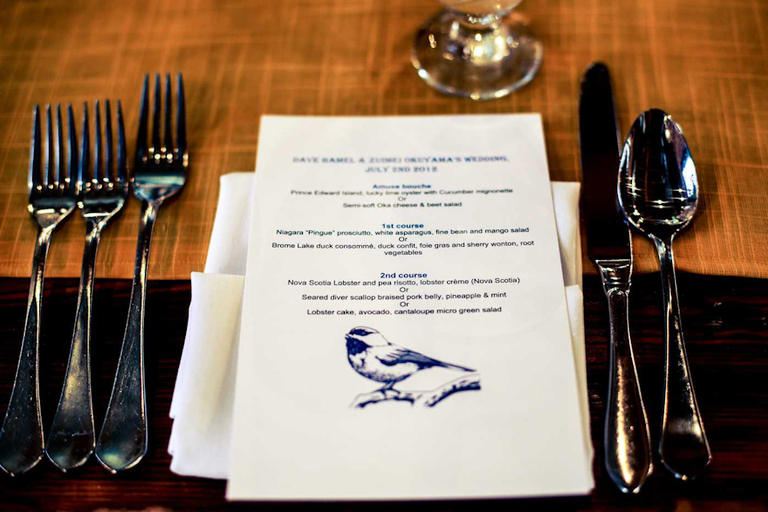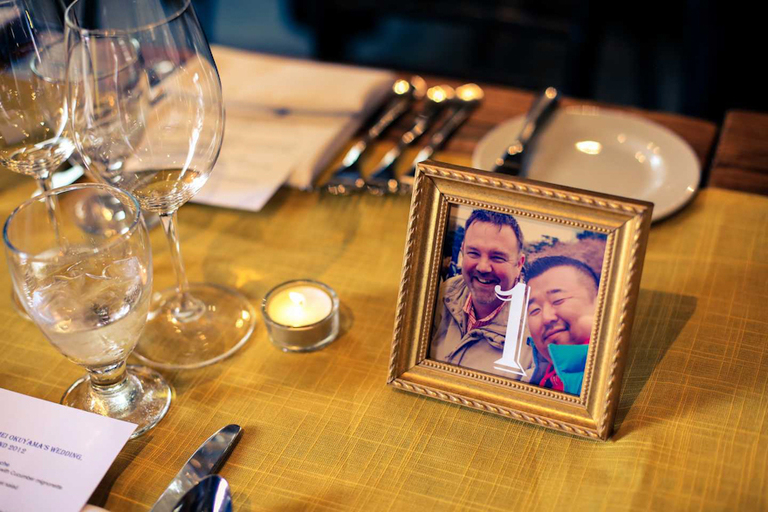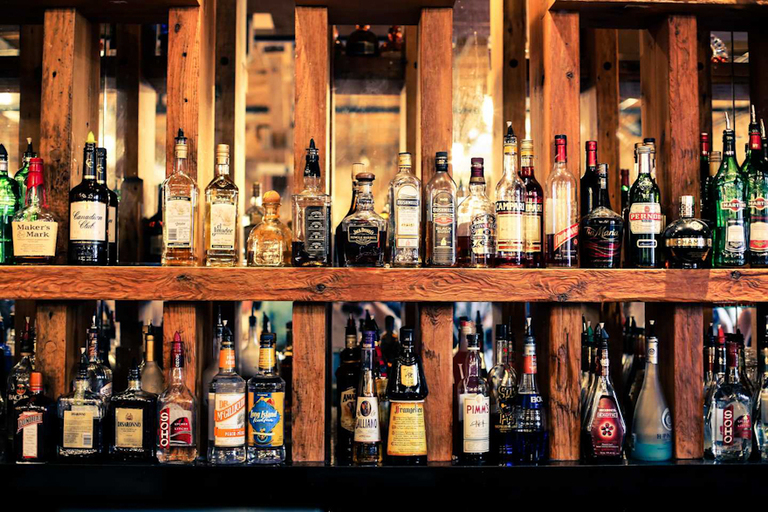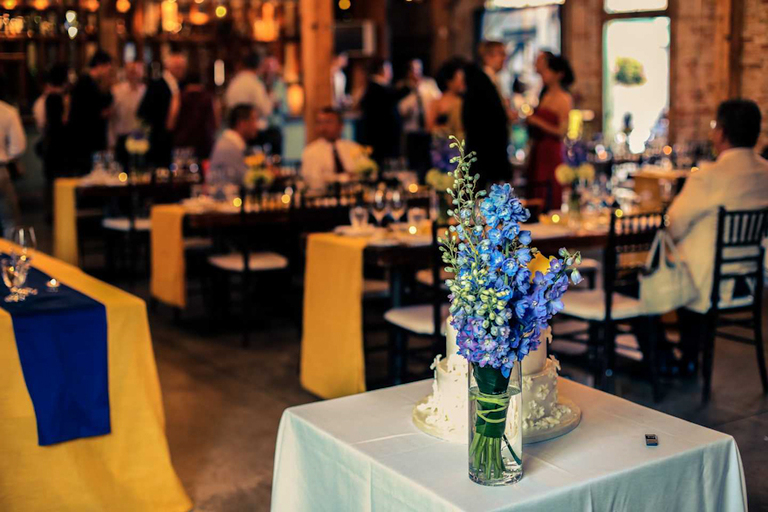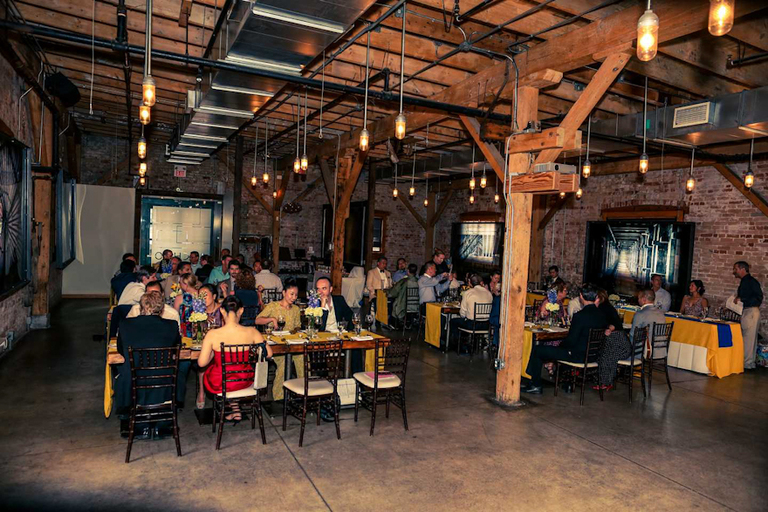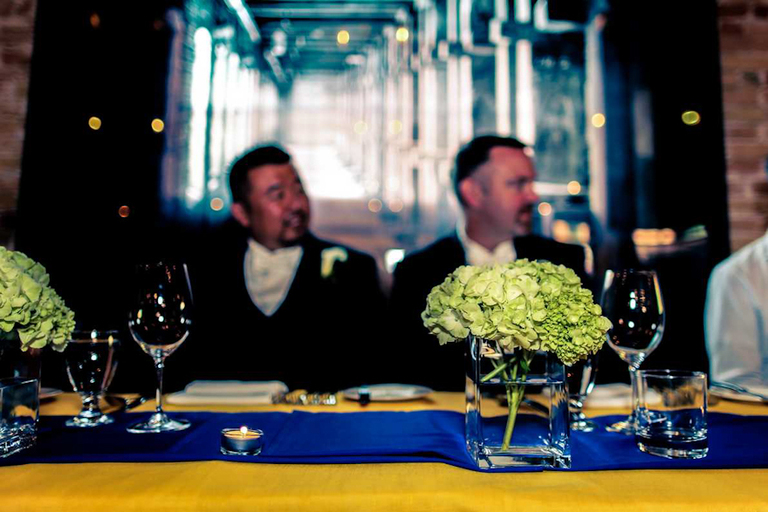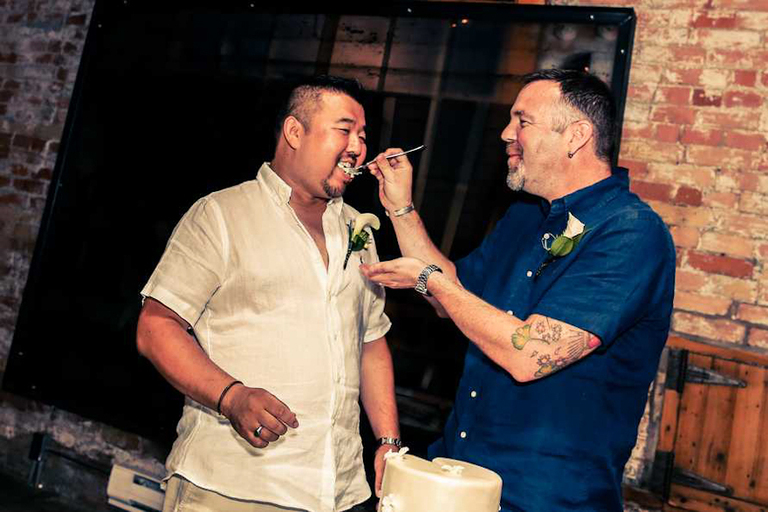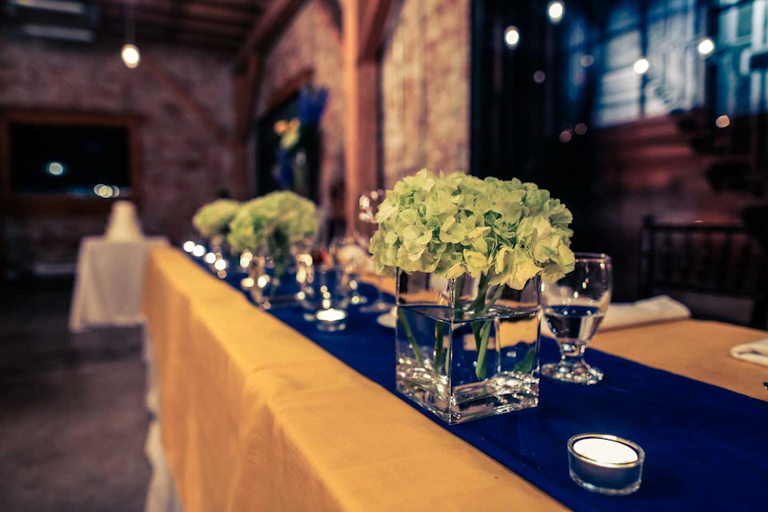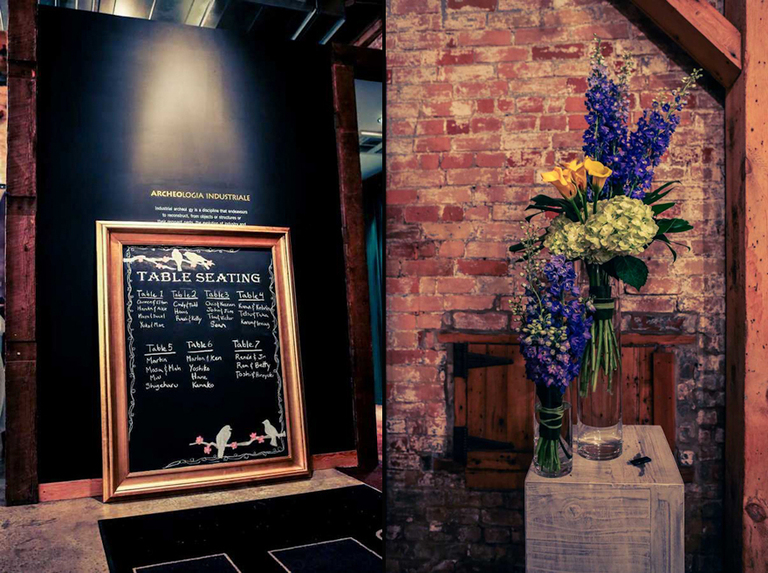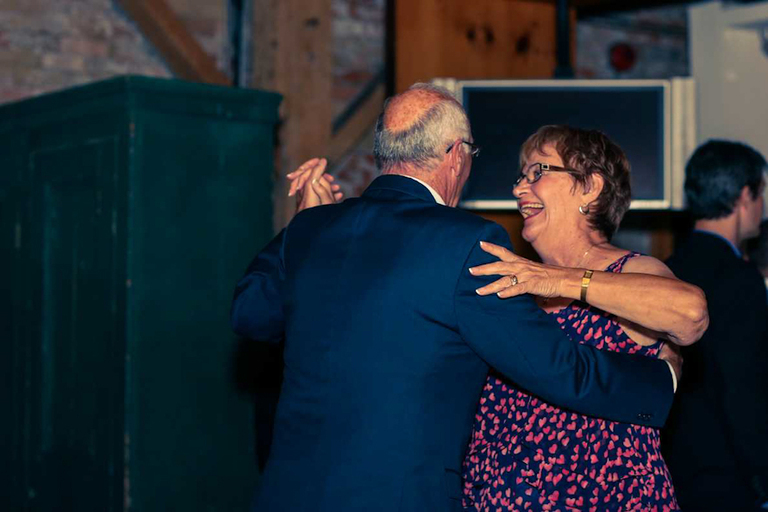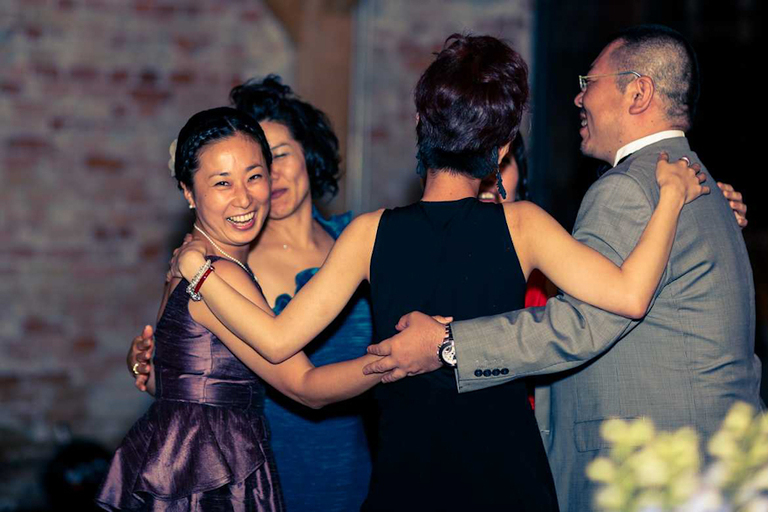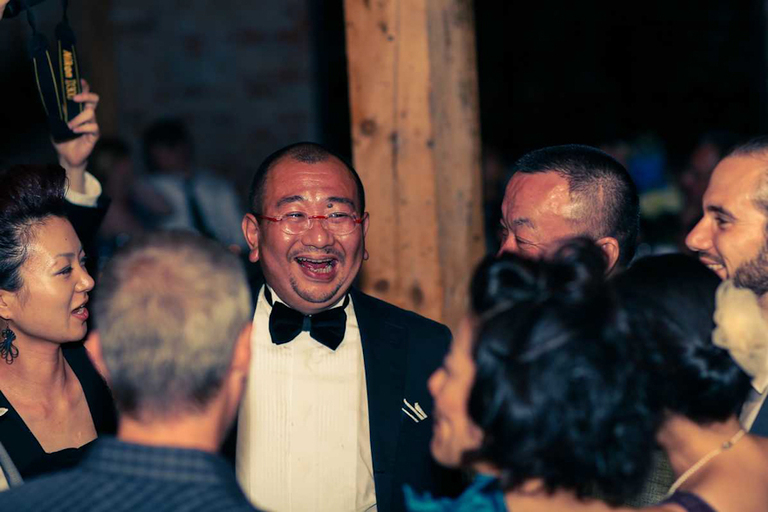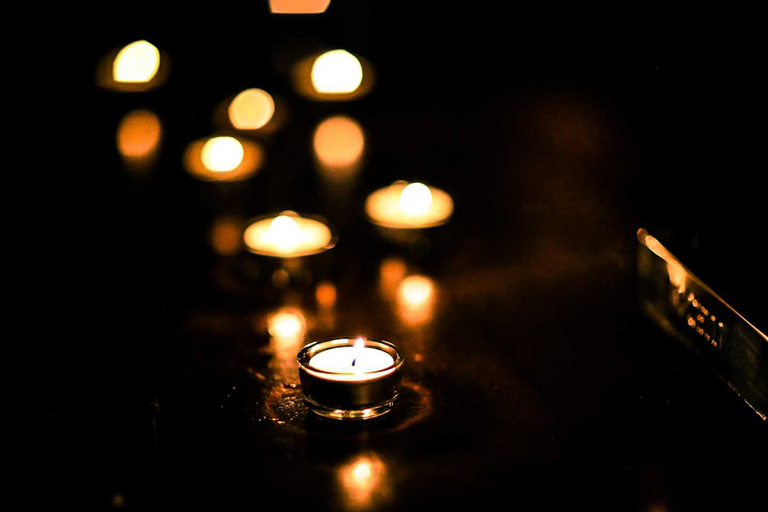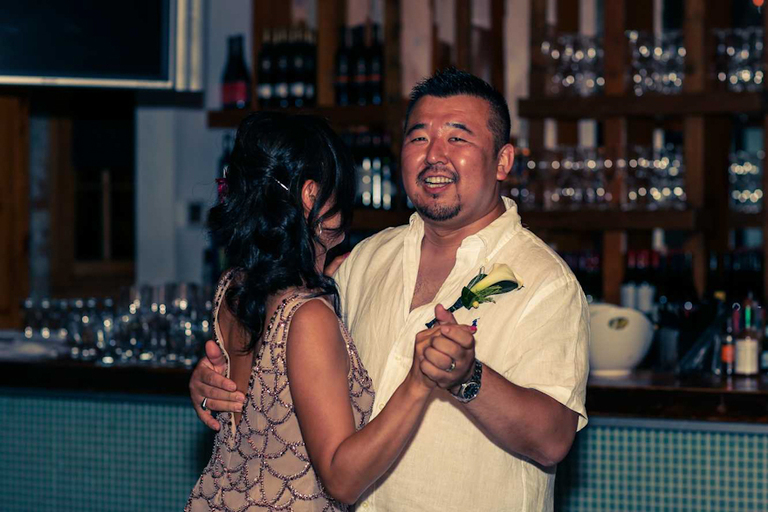 Photography: Devoted to You
Flowers: East of Eliza
Event Planning: Devoted to You
Ceremony & Reception Location: Archeo Restaurant in the Distillery district of Toronto
Invitations: Papillon Press
Carmen