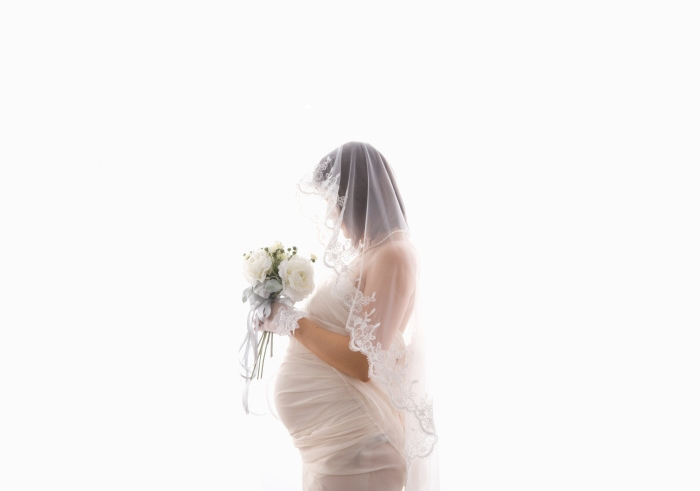 What is a shotgun wedding? According to the Urban Dictionary, a shotgun wedding is defined as: A marriage that is forced upon a couple usually by the parents of the bride due to either an unplanned pregnancy or pre-marital relations. In basic everyday terms, a wedding that needs happen immediately before the baby bump starts showing!
So for many people, the first thing that may pop to mind when told about a wedding taking place within 2-3 months is of course, "Is this a shotgun wedding?"
And perhaps the most familiar place for the so-called "shotgun wedding" is none other than the infamous Las Vegas. Sure, you'll be able to book a teeny tiny unknown chapel in the middle of nowhere and hope the stranger marrying you in mere seconds is actually legitimate. But I'm sure that wasn't your first choice when you were a little girl dreaming of a Cinderella wedding!

Well, here's some good news for the new parents-to-be looking to plan and host their dream wedding in the shortest time possible. Yes, it can be done!
First and foremost on your "To Do List" is to ask for help! Whether it be your mother, aunt, girlfriends or hiring a good wedding planner, you will definitely need all the help and support you can get. The last thing an expecting mom needs to worry about are all the nitty gritty details on planning the perfect wedding. Her first priority is to remain stress-free, happy and healthy in preparation for the bundle of joy that awaits. The wedding planning should be left for the pros!
And yes, I'm sure your mother, sister, and best girlfriends are fully capable to spare a few hours here and there to help you research potential ceremony and reception locations. They might also be able to assist you with putting together a list of emergency contacts and draft-up a schedule of events for the big day. But let's face it, we are all busy with full-time jobs and weekend family and social commitments. No one has the time of day to give you the dedicated attention and professional guidance. So here's a tip for you – hire a professional wedding planner. People hire planners to help reduce the workload they have to endure. And we all know that pregnancy already includes its own set of full time problems and stress that prevents you from being at your own 100%. Do yourself a favor and don't transfer all that stress to your baby. Studies have shown a pregnant woman's stress can impair a child's physical and mental growth.
I know you're probably rolling your eyes waiting for the infamous pitch on all the wonderful things a wedding planner can do for you such as: (1) act as a mediator in saving relationships when arguments arise between the couple as well as with family members and friends, (2) offer knowledge and advice on proper wedding etiquette in order to ensure your dreams are made realities, (3) create wedding day schedules leading up to the big day, (4) orchestrate from rehearsal through the end of reception to ensure everything goes off without a hitch, and (5) handle all unforeseen circumstances and crises that are bound to arise on the big day … Blah, blah, blah …
We won't go into the truth on how wedding planners can add value to weddings, but there are a few important points the parents-to-be should consider when planning a shotgun wedding.  
A wedding planner will SAVE YOU EVEN MORE TIME
Given that time is definitely not on your side when planning a shotgun wedding, leveraging off the expertise and pre-established relationships of a wedding planner are definitely to your advantage. The average couple spends between 250-400 hours and up to fifteen months to plan their special day. When you're left with 3-4 months to plan a wedding before the baby bump starts to hide the sight of your toes, you aren't left with much time. A good wedding planner will have a complete vendor database with contacts for a broad range of budgets and locations. Given that the wedding is months away and vendors are usually booked 6-12 months in advance of the wedding day, many vendors may no longer be available. A wedding planner will do the research for you and recommend only competent vendors to help eliminate the stress involved with finding trustworthy and reputable vendors in such a short period of time.
A wedding planner will SAVE YOU EVEN MORE MONEY
We all know that weddings can be extremely expensive and with a baby on board, the money situation only complicates itself some more. Perhaps the one advantage with shotgun weddings is that venues are usually booked up to a year in advance of the event date. If you are lucky and the venue you desire is still available 3-4 months from the wedding date, the venue may be willing to offer a discount rate in order to sell the space. Hiring a wedding planner can help you further the savings given the relationships wedding planners have established with their huge network of vendors. Well-versed wedding planners do not accept kickbacks, but can help set and track the budget and further savings by negotiating discounts for their clients without compromising on the overall vision of the couple's wedding day. 
A wedding planner will minimize your stress to ENSURE YOU HAVE EVEN MORE FUN!
No bride or groom needs to deal with the stress of planning and then try to manage the logistics on their actual wedding day. This is even more true for the expecting Mom who will be on her feet hosting guests for 14-18 hours on the day of the wedding. The average wedding has at least 20 different vendors. Combine that with the entire wedding party and all of the guests – that's a lot of people! By hiring a wedding planner, the blushing bride (and her little baby bump) can sit back, relax and be left stress-free to enjoy the celebration. All questions, concerns, and unforeseen crises will be unknown to the bride and groom and dealt with seamlessly by the expert wedding planner. Your personal "go to person" for the day will ensure that you will have a worry and stress-free day – allowing you to ultimately enjoy your day like your guests! 

I can't emphasize enough how a wedding planner adds value to all weddings but is also a completely essential asset when planning a shotgun wedding!
Jen