Hi everyone!
We're here live at the Ritz-Carlton Hotel in downtown Toronto ready for the 1st annual Wedluxe Wedding Show!
We arrived at 9:00 am and even before going in you can already feel the excitement buzzing from inside the hotel.
For its inaugural year, the Wedluxe Show is held on the 2nd and 4th floors of the hotel. Registration is on the 2nd floor. Right outside the elevators, attendants are diligently awaiting to assist attendees with their registration, gift bags, map, and ballots for prizes, to be held every half hour. Sorry for the bad photo, it was pretty dark.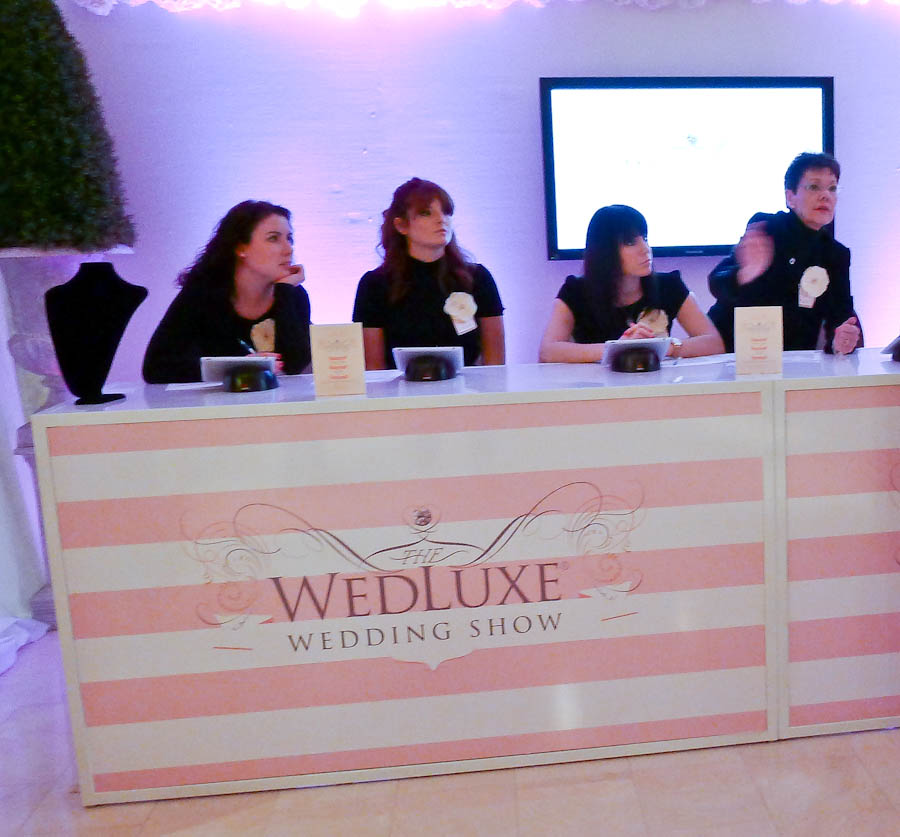 You will find the grand entrance very intricately made like a white draped artificial tunnel with rose petals hanging down. The entire feel is to make you think you've walked into another world, and you have. It's the world of luxury weddings!
Once you walk into the 2nd floor there are booths on the hallway outside, with the bulk of the exhibitors inside the hall.
I caught a glimpse of a model walking around in a wedding dress and was able to capture a quick shot of her before she was whisked away.
Good news for attendees who haven't had a bite before coming, the Ritz-Carlton has free hors d'ouerves, even mini-burgers!
And don't forget the drinks!
And for those who want to a relaxer, sit down for complementary tea at a Kate Spade inspired tea-room. A caution though, there may be a huge line-up!
On the 4th floor there are men and women's lounges for some downtime. The photo below is the men's lounge.
The women's lounge is a little more hectic…there's tons to do in here including trial makeup and more snacks.
There's also some bridal gown displays alongside the outer 4th floor for some gown ideas.
Finally, I took this quick snap of the Wedluxe booth. Naturally, it was the most extravagant booth at the Show. Kudos to the team and their efforts.
Carmen