2012 is fast approaching, and there's no better way to kick off the new year than with the best wedding show in Canada, The Wedding Co. Show! This year, the show dates are January 13th-15th at The Carlu, and you can purchase advance tickets ($20) plus get $2 off on their site by clicking the button below: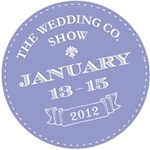 We're extremely excited to be a part of this event and we hope you can come visit us at our booth. We're also going to unveil our secret new signature gift to all our new full planning clients and will be giving one away at the show! What is it? Come drop by and have a look!
We're also proud to be a part of the inaugural The Wedding Co. Magazine, available at the event. We have a spunky new ad that's bound to turn heads! Remember to pick one up at the show!
Love,
Carmen