Happy long weekend everyone!
It's sad that summer is almost over.   It was a great summer for me and my family but also a great summer for Devoted to You with all the weddings we did.   We've been busy working on lots of wedding inspirations for our couples and also preparing for the weddings this fall.  We are super excited because we've put a lot of effort to personalize each of their weddings.  This year we have a lot of hands-on DIY brides.
Last weekend, Stella and I witnessed a super bride who did her own hair and makeup , plus all of her family and relatives hair and makeup as well. Jaw dropping!!  She even handmade all of the wedding day stationery, pew flowers, wishing tree, place cards, etc. etc. etc.  Here's sneak peek of the wedding program done by my super bride and stay tuned for our blog about this wedding.

Other than focusing on the wedding days coming up, we are implementing a lot of changes to our business!
First of all, we're re-branding our company with a new logo and launching a new office for European destination weddings in Italy! We're just doing some mock ups for some magazine ads. Here is a sneak preview on what we're working on (test photo from : ShutterStock)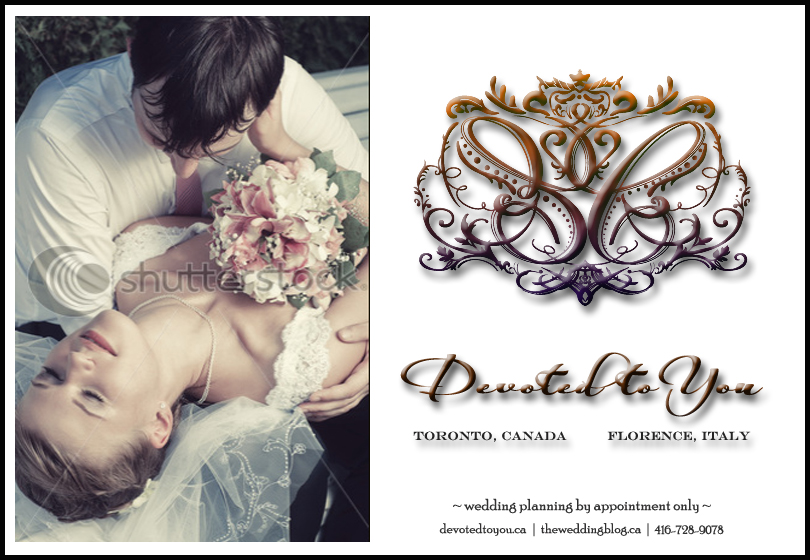 Our mailing location has changed. We're now located in the heart of Yorkville at 33 Hazelton Ave. Suite 103, Toronto, ON M5R 2E3.  Also, we're working on a top-secret project that will blow away all of our new clients. We're hoping to be able to implement this over the next couple of months! Finally, we're picking up our new company car today, so excited! I'll post some photos of the car next time!
Stay-tuned for further updates!
Oh, one more thing. We want to announce that we are fully booked for Spring/Summer 2012 and have limited space for Fall weddings. Please drop us an email for a free complimentary consultation.
xoxo
Carmen