One of the first major decisions you'll need to make when planning your wedding is the venue. The venue often needs to be booked well in advance, and will leave a lasting impression on guests. Of course, this decision will vary based on the theme, size and traditions of the couple, so keep that in mind as you consider your venue options.
There are many different types of venues to choose from, so here we'll walk you through the main types of venues and list some pros and cons to you decide what works best for you.
Banquet Hall
If you've attended a large wedding before, chances are you've been to a banquet hall. Banquet halls are known for their spacious rooms and are very common for large weddings.
Pros:
Hold high number of guests

Staff is experienced at handling weddings

Photographers are typically familiar with the space, thus taking pictures is easier
Cons:
Commonly used for weddings, may not feel unique

May be hidden restrictions on food, drinks and other vendors

Set space means less flexibility for unique decor options
Restaurant Reception
Restaurant venues are available all over the GTA and they usually offer a good mix of space and dependable food and staff. Here are some things to consider for a restaurant reception.
+
Pros:
Food! You typically know exactly what you're getting into food wise at a specific restaurant

Equipment (tables, chairs, linens etc.) are readily available, often without rental costs

Staff is experienced at serving and clearing tables
Cons:
Limited flexibility in table seating charts and layout

Restricted use of external vendors, and/or additional hidden fees

Restricted decor options and limited time for setup
Outdoor Wedding
For a unique vibe and more casual feel, outdoor weddings are a great fit. Here are some things you'll want to consider if an outdoor wedding is your preference: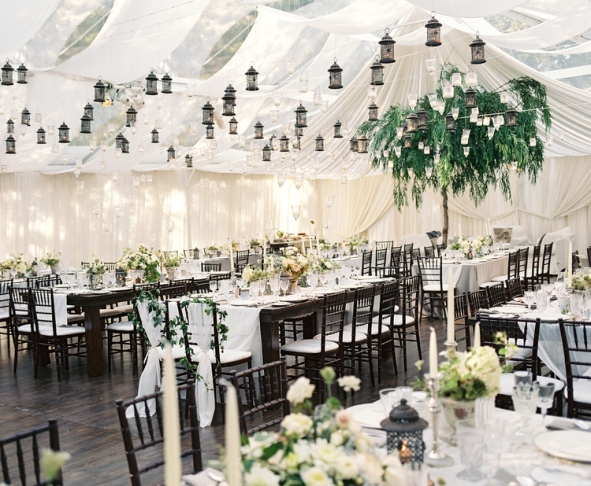 +
Photo credit: www.stevesteinhardt.com
Pros:
Surrounding landscapes provide a beautifully natural decor

Less common, therefore more unique

Customizable decor options with amble space
Cons:
Weather! Mother nature doesn't always cooperate, so rain plans are especially important

Temperature control is difficult in tents

One of the most costly option as everything from catering, staffing, heating/cooling system will need to be brought on site.
Hotel Wedding
Much like banquet halls, hotels often have large ballrooms to hold large, or even smaller, weddings. Consider these pros and cons if you're leaning towards a hotel wedding:
Pros:
Convenience! Hotels have built in accommodations for guests

Photographers are often used to the hotel halls, making photography easier
Cons:
May not feel like a stand alone venue, in that other hotel features can distract guests

May be hidden restrictions on food, drinks and AV costs

Higher service charge

Set space means less flexibility for unique decor options
Every wedding requires a different type of venue space. Remember that the size of your wedding and your theme can help you narrow down options. We hope this list helps you decide what type of venue is best for your wedding.  Happy Wedding Planning!