In addition to our blog post, we are sharing more information on upcoming wedding venues open houses with you to help you with venue shopping. Finding the right venue that fits your style and budget is one of the most important step in wedding planning.
District 28 – Thursday, January 26th, 6:30pm
Location: 28 Logan Ave, Toronto, ON M4M 2M8
RSVP: events@district28.ca
District 28 is an unique event space located in downtown Toronto. What's so special about this venue is it's blank walls in each of their event spaces that allow you to be creative and customize your wedding
Winter Wonderland and Open House
Date: Saturday, January 28th, 6:30pm – 8:30pm
Location: 1 Langdon Dr, Cambridge, ON N3H 4R8
RSVP: No fee or tickets required
Full Open House
Date: Sunday, January 29th, 10:00am to 4:00pm
Location: 1 Langdon Dr, Cambridge, ON N3H 4R8
RSVP: No fee or tickets required
Langdon hall is named one of the loveliest wedding venues in Canada in 2016 by Weddingbells Magazine and top 20 hotels in Canada. Located in Cambridge, It's known for its luxurious service and 5-diamond award winning restaurant with beautiful venue spaces indoors and outdoors. It is the perfect venue for those who want an intimate wedding and amazing culinary experience.
Date: Saturday, February 4th, 11am-5pm
Location: 789 Yonge St., Toronto
The Bram & Bluma Appel Salon is a versatile space with high ceilings for an airy and spacious feel. With ample natural light and modular design, it has plenty of room for different events – or it can be combined into one large space with a large capacity of 575 people. This venue also has two outdoor terraces, which could be utilized for photos. It is conveniently located at Bloor and Yonge.
Chez Lavelle, Sunday, February 5th, 11am -5 pm
Location: 627 King Street West, Toronto
RSVP: Email Events@tmhos.com | 647-344-3570
Lavelle was just opened last year and it has been known as one of the best rooftop spaces in Toronto. It is a stylish venue for bridal shower, bachelorette and even weddings with pools, rooftop patio, restaurant and bar with an unobstructed view of the city's skyline.
Date: Thursday, February 23rd , 2017, 6pm-9pm
Location: 10080 Kennedy Rd, Markham
RSVP: Email awayling@angusglen.com
Angus Glen Golf Club is located in Markham, and is one of Canada's best known golf courses. It offers a variety of rooms of different sizes, with a capacity of 450. The rooms are unique, and are sure to appeal to most couples. This venue has stunning landscaping and outdoor gardens that great a perfect backdrop for photos.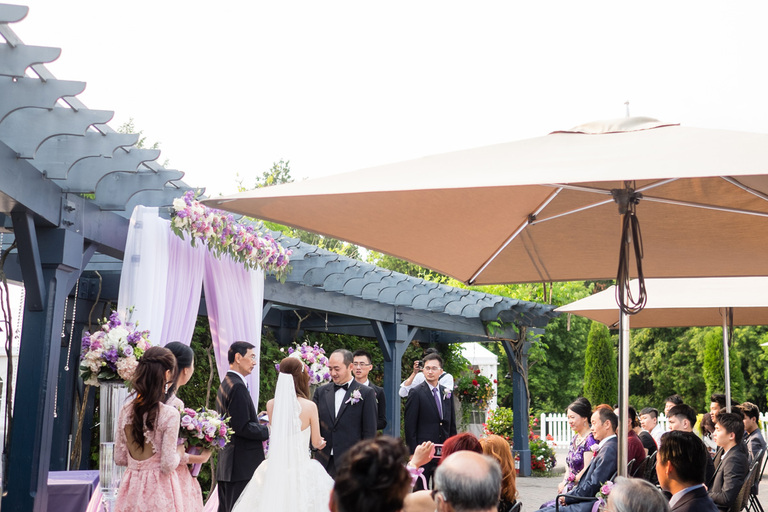 Date: February 28, 2017
Time: 5pm-8pm
Location: 91 King St E, Toronto
RSVP Required: Email weddings@albanyclub.ca
The Albany Club is one of Canada's oldest private clubs, founded in 1882 by Canada's first Prime Minister Sir John A. MacDonald. This venue showcases its historical charm and is located in the heart of Toronto. There are a variety of rooms to suit your needs, and a new rooftop patio that has views of downtown toronto and the historic St. James Cathedral.
Date: Saturday, March 4th, 2017, 10:00am – 3:00pm
Location: 1254 Union Street, Kitchener
RSVP on website http://www.haciendasarria.com/openhouse
Hacienda Sarria is a lavish Spanish-style estate with beautiful gardens and picturesque architecture. The old-world style and charm, mixed with the experienced staff creates unique weddings guests are sure not to forget. The spectacular amenities Hacienda Sarria has to offer are truly incomparable, and the majestic location provides a gorgeous backdrop for wedding photos.
Date: March 5, 2017
Time: 1pm-7pm
Location: 75 Derry Rd W, Mississauga
RSVP: https://www.eventbrite.ca/e/mississauga-convention-centre-wedding-fair-open-house-tickets-30520908860
The Mississauga Convention Centre has six grand ballrooms to house your perfect wedding day. With rooms that showcase stately 18' coffer ceilings, not to mention gorgeous chandeliers that are sure to catch guests eyes, this location is full of potential. Conveniently located by Toronto Pearson Airport, this is an easy to get to location for residents of the GTA.