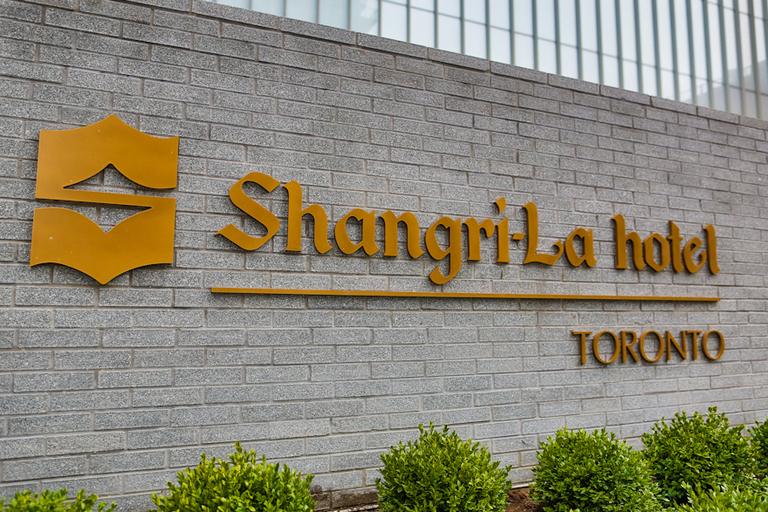 Today we have been fortunate enough to be invited to tour the spanking new 66-storey luxurious Shangri-La Hotel and Residences.
To be exact, the first 17 floors houses over 200 rooms for the hotel, floors 18 to 49 are residences, and floors 50 to 66 are private estates. The building occupies the block between University Ave and Simcoe St., and Richmond St. W. and Adelaide St. W. in the heart of downtown Toronto. For those of you driving or taking a cab, valet and drop-off is on the Simcoe St. side of the building. If you're feeling extra special and look to fly into Toronto, the Shangri-La has a special limo service to or from the airport for a modest fee, depending on the class of Mercedes you want to ride in. (all photos copyrighted by Devoted to You Inc.)
Overlooking the entrance facing University Ave. is a new artistic masterpiece by Zhang Huan, a Shanghai-based artist who is also showcased at the Pace Gallery in New York. From ZhangHuan.com: Zhang Huan conceived Rising as a philosophical reflection of the world around us. The polished stainless-steel sculpture is comprised of countless doves, the international symbol of world peace, and a twisted tree branch that resembles the body of a dragon. The sculpture draws an analogy to the fragile conditions facing our planet. Zhang Huan seeks to convey the message that humans can exist in harmony with nature, and that, if this delicate balance is struck, our cities will become better places to live. Zhang Huan says that "through the monster-shaped tree, I would like to advocate the protection of ecology, and the harmonious relationship between humans and nature. The doves in the tree symbolize the peace of the world and my wish is for beautiful city life to be shared by mankind and nature."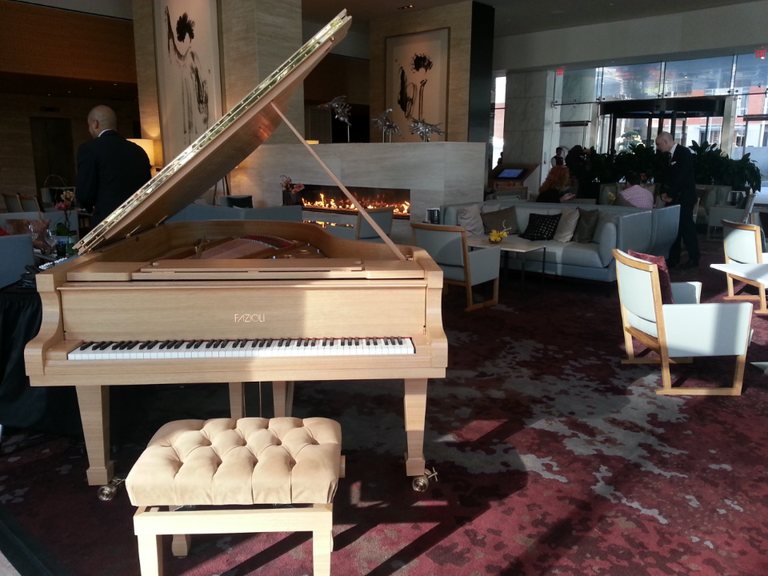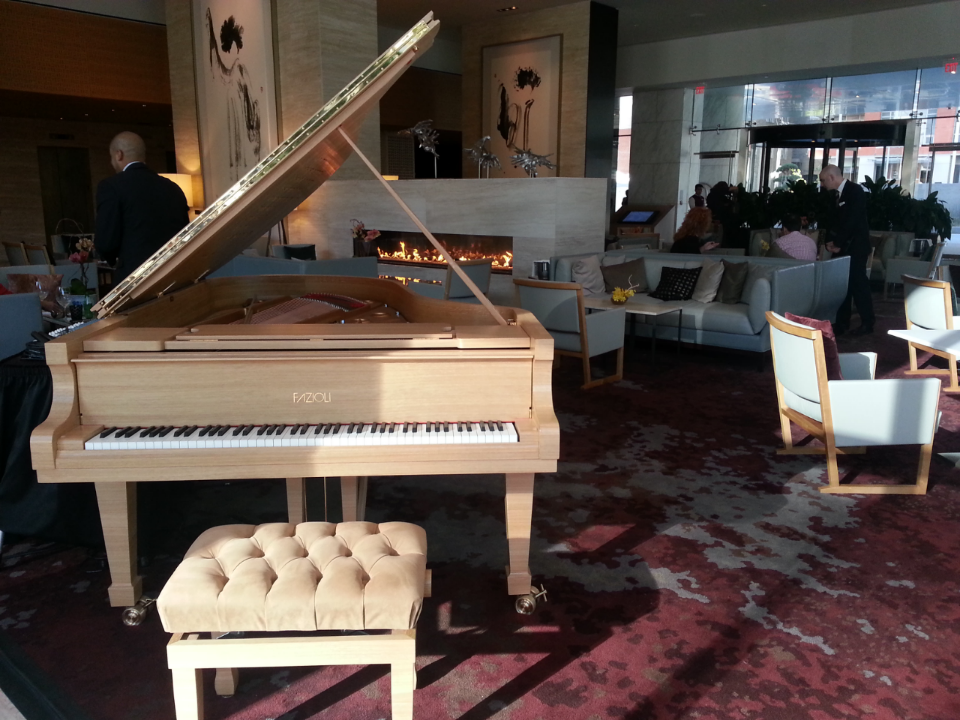 The lobby is bright, with floor to ceiling windows on the building's west and east facing sides. In the middle is the lounge area, where guests can sit, relax and have a drink. Asian art is seen throughout the lobby. A contemporary fireplace and wooden piano round out the lounge area.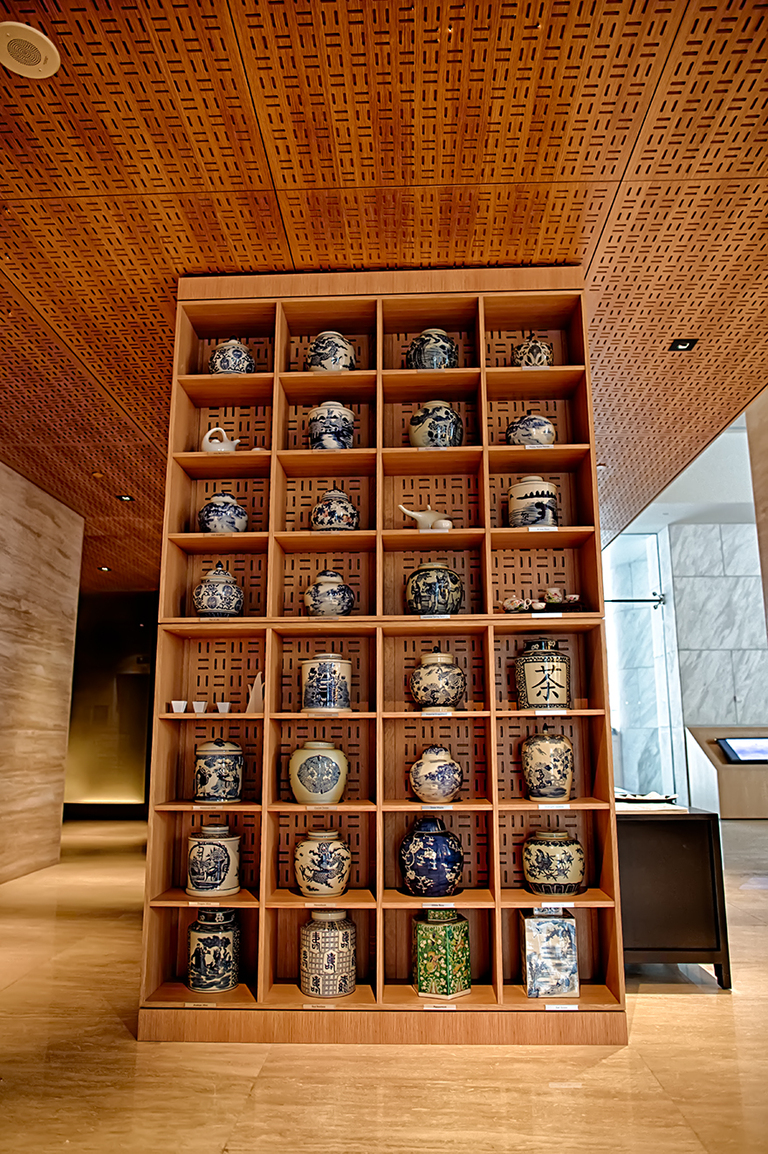 Hidden behind much of the lounge are two cabinets of Chinese urns/pots.
The Shangri-La has two restaurants. Bosk, the hotel's signature restaurant, resides in the lobby. Its signature cuisine is a collection of international dishes, but with an Asian influence. Executive Chef Jean Paul Lourdes has held positions at Michelin restaurants, among them include Les Maisons de Bricourt and Pierre Gagnaire in France, and Restaurant Kikunoi, Les Créations de Narisawa and Nihonryori-Ryugin in Japan. During his tenure, he was schooled in the Japanese cuisine style of kaiseki, which is a traditional multi-course meal.
For lunch, Bosk offers a set menu consisting of either two or three dishes, topped off with a small dessert and coffee/tea.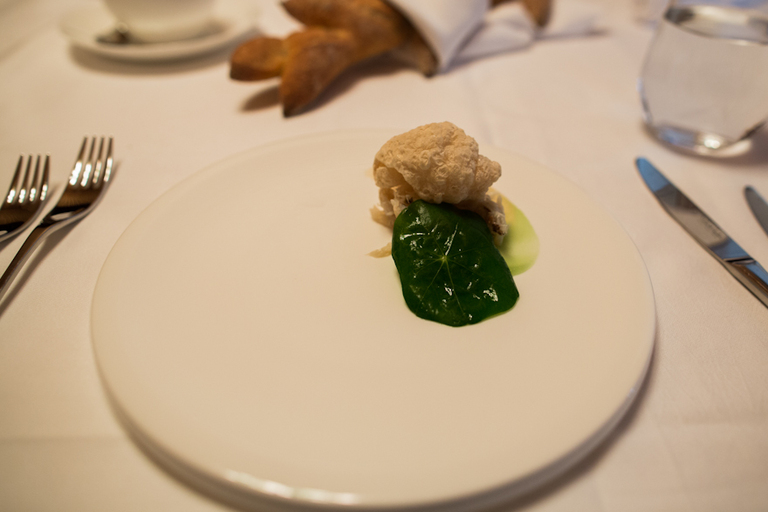 For our first plate we started off with a Dungeness Crab and Hamachi Belly.
Oh, I almost forgot….we also had some funky looking bread!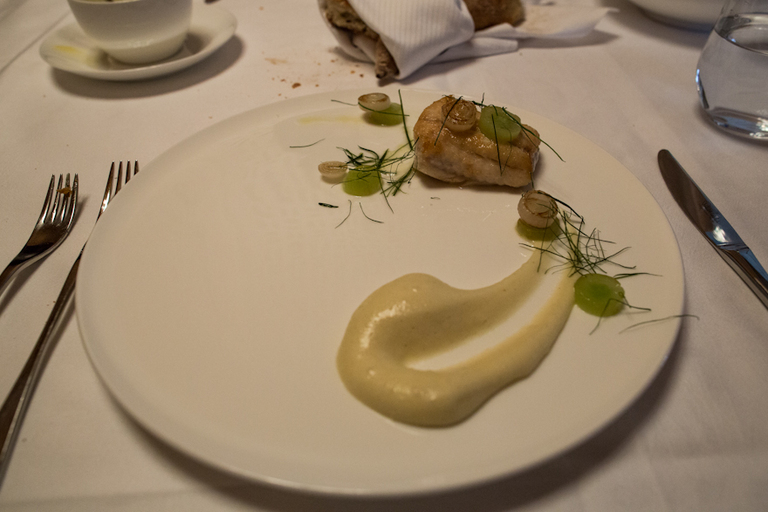 For our second course we had the Shima Aji and Sole Véronique, both fish.
Finally we both had some cake and some French style pressed coffee.
The second restaurant, which is in an adjoining building, is the first Canadian restaurant of famed award-winning chain Momofuku. Momofuku was founded by chef David Chang and his restaurants are found throughout New York City and one in Sydney Australia. Momofuku began as a noodle bar, but quickly expanded to other locations offering various unique themed dishes for different taste buds. Momofuku's Toronto expansion is momentous; it will span three floors and include four unique experiences. On the top floor we have Daishō ("pair of swords") – serving a communal-type meal for parties of four or more, and Shōtō ("short sword") – an over-the-counter tasting menu experience. Nikai (translating to "second floor") is on the second floor (obviously) and will be where the bar will be (hopefully it won't be too crowded with lawyers and bankers on Thursday afternoons!) and the iconic Noodle Bar is situated on the ground floor. As of our review date only the Noodle Bar was open. Here's what's offered:
Naturally, I had to try the Momofuku Ramen. Personally I've been rallying for a ramen place in the financial district for over 10 years! Although the portion was quite small, I left pretty full. Maybe it was the fatty pork. I also asked for a Saranac Ginger Beer. I haven't tried it before, and I quite like ginger ale.
Finally we ordered a bun, with hoisin sauce, cucumber, and scallion. We opted for the shiitake, although there's also pork and chicken to choose from. My opinion? It tastes like peking duck without the duck. I guess if you try the chicken it may taste similar.
Now for the good part – how are the private function areas?
Shangri-La includes approximately 12,000 square feet of function space with all with floor-to-ceiling windows. These are located on the 3rd floor and open onto a landscaped terrace. From Shangri-La's website: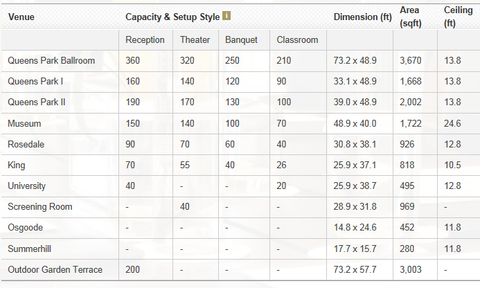 In case you don't understand what the setup styles mean, here's a legend:
The two largest rooms are Queen's Park which holds 360 when you combine the two separable areas, and Museum which holds 150. Other than size, the main aesthetic difference between the two rooms is that Queen's Park is fully enclosed, whereas Museum has two sides of windows. In addition, one side of Queen's Park's doors lead to the terrace, overlooking University Ave below. The terrace's landscaping is not finished at this time so we will not be posting any photos of it.
We're not going to go through all of the rooms, however Shangri-La also offers business rooms and a screening room for presentations or movies.
Finally, for those of you who want to do some relaxing before getting married, the Shangri-La offers several experiences:  a Hammam spa called Caudalie, a well known North America blow dry bar called Blo, and a fitness centre complete with a yoga studio and pool.
Unfortunately, we did not get the opportunity to visit the guest rooms and suites, but from what others have posted, they look extremely comfy!
We want to thank the management staff at Shangri-La for their hospitality in letting us tour the hotel. That's it for now, please contact us if you're interested in booking this venue!
Carmen