We had the opportunity to meet and greet Abby Larson, chief editor of Style Me Pretty, one of our favorite wedding blogs. It was a great experience sitting in her seminar chatting about weddings!  She shared a few key tips on how to create a BESPOKE Celebration and what it meant to be a BESPOKE Celebration.
This is how Abby defines B-E-S-P-O-K-E:
Be Yourself
Embrace trends – then style stamp them. What this means is that pick the trend elements that you like and personalized it.
Stay Inspired.
Pick your Team carefully
Organization – Stay organized and use tools to help you
Keepsake it – A lot of details get overlooked and things used at the wedding can become permanent keepsakes
Enjoy the Ride
It can be very overwhelming as a bride-to-be when you are overloaded with so much information on wedding trends.  Pick your top three blogs to follow to stay focused.
Abby shared her top favorite design elements with us, which can be easily incorporated into any parties and weddings:
Gorgeous Typography: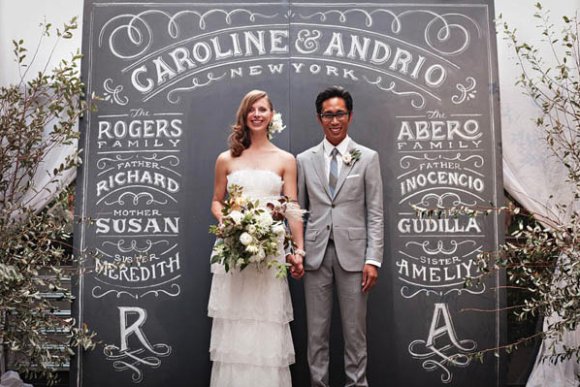 Ombre – French for "shaded" (photos from JoyFoley Weddings):
DIY:
Doing it Yourself doesn't mean just DIY-ing the decor, you can also incorporate some homemade foods and recipes
Branding:
Have the same branding/logo throughout the whole wedding
Here's a picture of Jen and I with Abby. A shout-out to her husband Tait, as our dedicated photographer.  He is the technical guru behind this beautiful wedding blog. It was definitely great to meet the awesome husband and wife team.
Last but not least, we had a one-on-one chat with Renee, the brilliant mind behind The Original Wedding Soiree. We asked Renee what inspired her to create such an interactive wedding show. Her response was that  back in the day when she was once a bride-to-be, she went to all the wedding shows and felt overwhelmed with all the brochures that vendors threw at her. Afterwards, she didn't remember a thing from the shows other than the bags of papers to carry home.
A few years later, she took the opportunity to look at weddings from a bride's perspective again and tried to think exactly what a bride wants to accomplish at a wedding show. She came up with champagne, hor d'oeuvres, and a relaxing environment where the bride can mingle with vendors and pick their brains on wedding tips.
Last year, the show took place at the Mississauga Convention Centre and this year, she's testing the water and trying out a venue downtown.   The venue of the show needs to reflect the theme of the show and that's why she picked One King West. So why Art Deco as a theme for 2012?  It all starts with something that Renee likes – classic, elegance, something timeless.   When Renee partnered up with The Ring Bearer, they started brainstorming until the words timeless, elegance, and 1920s popped out.  A lot of fashion are inspired by those same things.  Art Deco is the word that describes what she envisioned.
So what's going to be theme next year? It's going to be hush hush for now 🙂
Carmen