On Wednesday we were given the privilege to attend a very exclusive  industry event hosted by Trump International Tower & Hotel Toronto. For those of you who don't know, Trump International is a luxurious 65-storey five-star hotel and condominium located on Bay & Adelaide, at the heart of the financial district just behind Scotia Plaza. Fresh off the mound, it had just recently completed development back in January.
The service in this hotel is unparalleled. As we pulled into the entrance, we were warmly greeted  by the valet and were escorted to the Grand Ballroom where the cocktail party was taking place.
Here is a photo of the grand lobby. As you can see, there is the distinct Trump gold and granite black throughout. Behind the main concierge there is a large abstract crystal mural: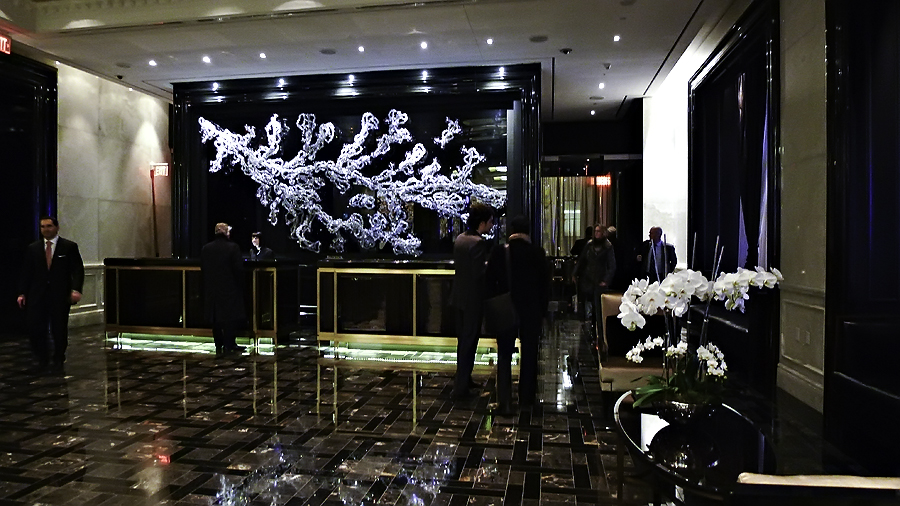 The coat check area was equally impressive. A white button-tufted reception area for checking in our jackets resided right outside the elevators:
The Grand Ballroom is decorated in finely detailed molding, especially throughout the ceiling. I really like the fact the hotel chose to use the more trendier black chandelier over the conventional ones. They definitely accentuate the blacks in the room very nicely.
Similar to the TIFF Bell Lightbox's Malaparte ballroom, The Trump's Grand Ballroom is an unusual elongated shape. However, don't let the looks deceive you. The ballroom's size is perfect for those events where socializing is important. It's large enough to make an impact for large parties yet small enough for people to mingle and not make you feel like you're in a convention hall. A good amount of thought have been put to designing the style of the ballroom and the personality bubbles through.
Aline and I made the most out of the night by sipping champagne and networking with other event professionals.  My favorite part was the sweet table.  To me, it was the highlight of the night!
If you are interested in finding out more about the venue or you are looking to plan your wedding there, feel free to drop me an email at carmen@devotedtoyou.ca
Cheers!
Carmen