Just thought I'd have some good clean fun and grab as many business cards at the Show as I could (sorry if I missed you). I wanted to see which business card designs I personally liked the most.
So first of all, I spread them all out.
Then (this is the most important step) I hand them all to Jill and let her decide.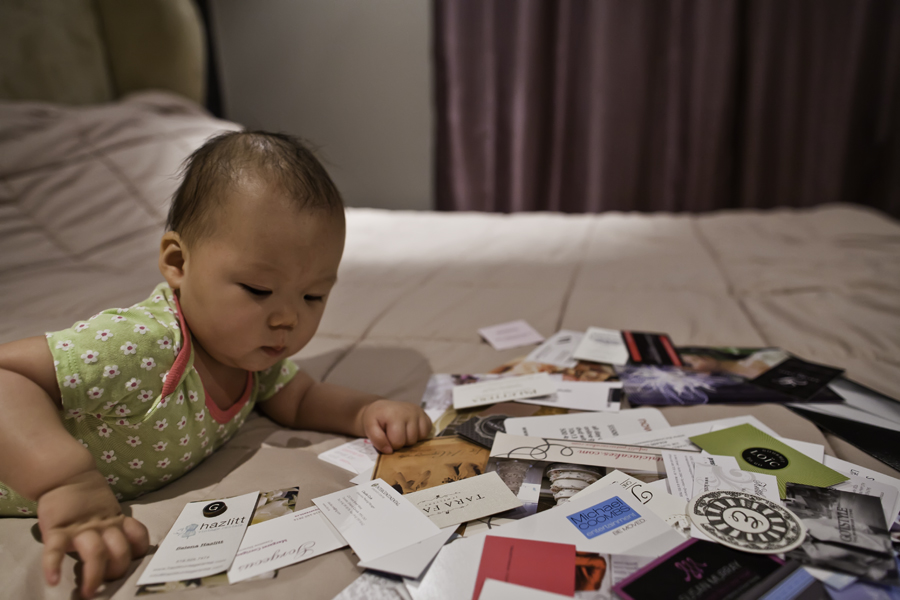 Of course, it ended up like this:
And here are the winners!
No, seriously, I picked these. Unfortunately, many cards ended up being ineligible…eligibility included being able to put the card into my jacket pocket.
I know it's not fair, and I gotta hand it to those guys who made specific postcard-sized business cards just for the Show, you will be sorely missed (for this contest).
But hey, I'm not that creative of a guy, so take my chosen winners with a grain of salt. In fact, take it with a bag of salt…I'm talking about those you pour on your driveway.
Anyway, most of the business cards were great, it was tough to pick these 15 out of the pile.
Thanks to everyone who participated in this no-prize contest! Of course, no one actually knew about it to begin with…(lol)
…and that's a wrap for the 2012 The Wedding Co. Show. Thanks everyone for tuning in!
Elton