It's early afternoon here at the 2012 The Wedding Co. Show in The Carlu. We've had the opportunity to speak to some of the exhibitors earlier this morning. Here's what they've had to say.
Michael Coombs is one of the most well known DJ's in the Toronto scene, doing between 60-80 weddings a year. He is also the president of the International Special Events Society (Toronto Chapter). He recently rebranded his company from Prodigy Entertainment and we asked him the reason for his rebranding. Michael explains that when couples hire his company, they hire him. It makes more sense to have a standard company name when there are more than one DJ operating within the company. For him, he is the company, so it makes more sense to have his name in the company name.
Michael's tip to couples is to meet the DJ before signing the contract, so you know exactly who you'll be getting at your wedding. Very often, DJs may be overbooked and subcontract the job to someone else. Just knowing who you get in advance will avoid confusion and headache.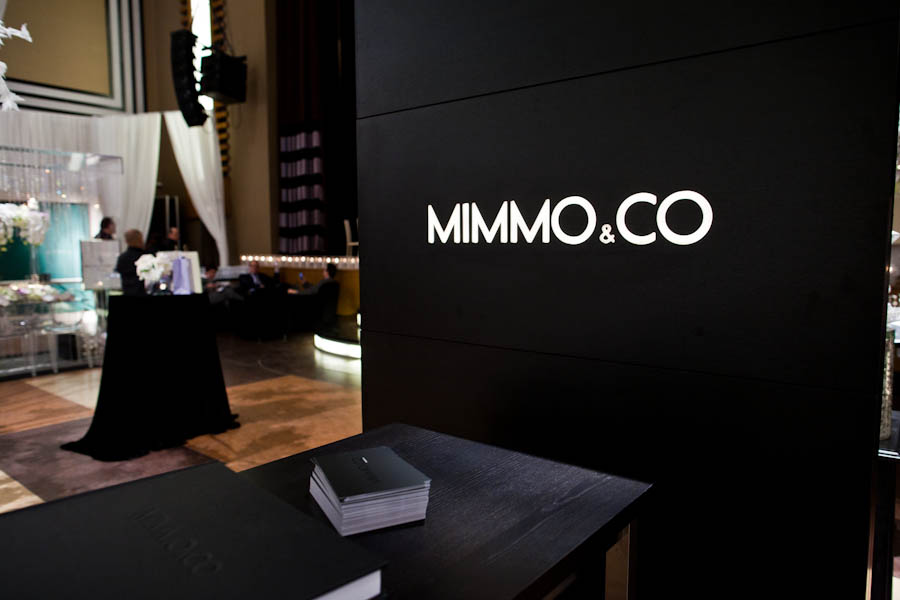 Mimmo is the owner and lead photographer at Mimmo & Co. The motto "Inspired By Love", is their signature slogan, and we asked him what it means and how he came up with it. Mimmo says every couple has their own unique story. Their stories reflect their day, and it's the only way he photograph; he interprets their love and weave a story out of that love.
The color of their company is black. Mimmo explains that black signifies a classic contemporary style, like the black tie event. We also think Mimmo's black and white photos are absolutely stunning.
Eunmi Park is the brains behind this sweet cake company. Pronounced Sweeter"E", there is a prominent E in her logo, so I asked her where she came up with such an interesting name for her company. Eunmi says her goal in life is to have a sweeter life. And her name starts with an E, so SweeterE became the name of her company. This way, she can also help others sweeter their lives.
Eunmi has a very nice collection of cakes at her booth and I wanted her to tell me which one is the one she likes the most. She pointed out a dark blue cake and said it was a little different. It was a different mix of geometric shapes, and it was a classy blue but not the Royal Wedding blue. And it's a nice and simple look.
LOL Candy
LOL Candy is a company which supplies sweets for candy tables and favors. Here at the Show, they wanted to create a summery feel for their booth, so the color scheme is green and many of the candies are shaped like flowers. They even have miniature watering cans as favor containers! Talk about thematic down to the last detail!
For favors, the company can also provide custom designed candy boxes and containers. Debra Novack, owner of LOL Candy, was a available for a few questions we had. There aren't any particular theme that stands out, couples tend to look for different color combinations and that's why they provide candies of every color.
Rebecca is one of the principal consultants at Luxe Destination Weddings, and they have a very big team of 14. For those of you who are looking to get married elsewhere, Luxe does a lot of those. Their specialty is the Caribbean and Mexico weddings, but they are fully capable to plan your wedding anywhere in the world. I asked Rebecca where were some of the more popular destinations for couples these days. She said Mexico, Jamaica, and Dominican Republic, primarily because those are relatively inexpensive places to attend weddings. As couples are looking to have their wedding elsewhere, one of the challenges is to have family and friends join you at the destination. The more expensive the destination, the less likelihood that people can attend.
Out of all the places she's planned weddings, she enjoys Mexico the most. She says it's a shame the country has been getting bad publicity lately; she says Mexico is quite a safe country, especially if you stay within the resort area.
The Flipbook Studio
The Flipbook Studio is a spin on the photo booth concept. Remember those flipbooks we made when we were young, where we would draw stick figures on a pad of paper and on every page we would draw the same stick figure a little different, so when you flip the pad it looks like an animated cartoon? Well, this is the same thing, but they are actual photos of you! And the great thing is, they produce the books on the spot, so your guests can all go home with a quaint little souvenir.
The Flipbook Studio has been operating in Toronto for a few years now (they also have offices across Canada). Normal services include a white backdrop, but you can always request for something different!
Shelley is the owner of Sweet Peony Press. I asked her which was her favorite invitation, and she said it was really tough, as things change and the last one you make is always the one you like the most. Her invitations tend to have a vintage look in richness and detail. The style is also like a narrative, with history and goes well with the letterpress theme. She did show me one which I absolutely adored, and it looked a little like those old carnival posters.
While probably not the first thing on your mind when you plan your wedding, wedding gown preservation should be something you would be interested in, especially if you're not renting your gown and want to hold on to it as a keepsake. Karen, the owner of To Have & To Hold, helps you preserve your wedding gown for many years to come. First of all, she will clean and repair of your dress for you. Then, she will invite you to come in to her store to take a look at the dress before she puts it into preservation. She said it helps as many brides want to see how clean the gown is before it goes into storage.
The preservation part is tricky and intricate, and all done wearing cotton gloves. Karen explains that all cloths attract acidity, and the acidity over time can turn the gown into an ugly yellow. Her preservation service is a detailed covering of all the layers of fabric with acid absorbent paper, so the acidity doesn't stay on the fabric. Of course, this means that the paper will become yellow over time and need to be replaced. So I asked her how long does this preservation last. Surprisingly, the acid absorbent paper lasts 25-30 years, so it's going to be a while before you need to replace them.
I strongly suggest brides give some thought into this, especially if your dress cost you thousands of dollars!
Next on our list is Joanna Sipos of Belle Boutique. Joanna specializes in custom designed jewellery that brides, bridesmaids, or mothers can wear to weddings. They are all one of a kind and much thought goes into every design. For this year's collection, Joanna decided on a more vintage theme, inspired by the 1920's and 30's cabarets in Cuba. She came across some of these designs when she was there recently and she instantly fell in love with how the rhinestones fit into the pieces. One of the things she loves to do is to take old things and modernize it. She's done quite a few designs where her clients would bring in old jewellery from grandparents and she would take them apart and reassemble them into brand new jewellery.
She is also into black and classy. The next item are made from black jets. She always likes to add a little energy into her semi-precious stones, and black jets are considered as grounding stones, so are quite suitable for weddings.
Finally, the next piece we're showcasing is adequately named "The Ice Princess", which even includes vintage chandelier crystals.
Fortunately, we had a model nearby wearing one of Joanna's pieces so I made a quick snapshot of her in case you want to know how these fantastic pieces of jewellery look on a person.
We've known Joanna for a while now, because we've purchased a few pieces of jewellery from her before! We blogged about our interesting re-encounter during last year's The Spring Wedding Show.
We've had the opportunity to speak with Patricia from Cre8ive Invitations twice this week at both Shows. I passed by her booth and there were some interesting looking invitations and it ended up being another interview session!
The first item has nothing to do with weddings at all (unless you can think of a wedding theme that incorporates this):
They are nice little mitten Christmas cards. The actual cards slip into the mittens!
One of Patricia's favorite designs are the shaker boxes. She has a few of those designs, where the inside image can be customized. There is a window with some pearls, beads, and micro-beads which can shake around.
Finally, here is a boarding pass type design which includes a hinge at the corner and a little skeleton leaf for added accent.
Tell Me a Love Story
We've blogged about this exhibitor in the past, but I felt it was important to mention again. Today I had a great chat with Jen Wilkinson from Tell Me A Love Story. Basically, they are entertainers for your wedding. And why is this important? Well, good entertainers are hard to come by, and entertainers which have something good to offer are even harder to come by. Most couples plan their weddings with a certain type of entertainment in mind: Music. And that's a good thing – people need to enjoy a string quartet or bust a move on the dance floor, especially when drunk. However, more and more brides and grooms these days are looking for something else to engage their audience, be it illusionists, circus acts, or even belly dancers! But none is quite as personable to the couple nor as capturing to their guests as a team of professional actors performing their love story live. How cool is that?
Jen has a very likeable personality, which comes across as someone you would definitely want to infuse some of that happiness into your special day. She also has ten years of experience in film and theater, plus is a graduate of the Second City writing program. Her team of actors are all professionals, and can be ready to perform your own special story in as little as two weeks. Now that's talent!
In addition to her primary offering, I asked her if her team does other things, like maybe improv (which I love). She said it was definitely do-able, so those of you who want to play out Whose Line Is It Anyway? (I called Colin Mochrie!) definitely give Jen a call!
Nadia makes cakes. Very nice ones.
Okay, there's more to it than that. Her cakes look more than sculptures, they're like paintings, or art on sculptures (as you can see from the photo above). Her signature cake for this Show was inspired by the art in the Frick Collection in New York City, most notably the panel installations in Mrs. Frick's sitting room by Francois Boucher (1703-1770). A historical tidbit – it was long assumed that Boucher's collection was commissioned by Madame da Pompadour herself!
Below we see some more of Nadia's works, a pair of birds layered in 24 carat gold paint, as well as wonderfully crafted cupcakes.
Alright, that's it for today. Please join us back tomorrow for the final installment of the 2012 The Wedding Co. Show!
Elton