As you all know, everyone is in a British high-society frenzy right now. This has gotten me very interested in one of their signature activities: having afternoon tea.  Many people refer to afternoon tea as "high tea", but they actually have very different meanings.  Afternoon tea, also known as low tea, is a very light meal typically eaten between 3pm – 5pm.  It was created by Anna Russell, Duchess of Bedford, back in the 18th century when people only had breakfast and dinner, and dinner was served very late in the evening.  To fill the gap of such a long day, she created this light meal of tea and cakes or sandwiches as a refreshment and started inviting her friends to join her.  It was usually served on low coffee tables and considered to be a ladies' social occasion.  Afternoon tea had quickly spread across the middle and upper class society and became a common activity to many social circles by the 19th century.
High tea, also known as "meat tea" is an early evening meal usually between 5pm -6pm and is served on a dining room table.  It is called meat tea because it consists of lots of meats, cheese, breads and heavy dishes like the classic shepherd's pie or steak and kidney pie. High tea, on the contrary, is more of a working class family meal rather than high society.
So how is the tea served?  Loose-leaf tea is brewed in a teapot and is served in teacups with milk and sugar.  It is accompanied by mini sandwiches, customarily cucumber, egg and cress, fish paste, ham, and smoked salmon.   Back in January, Elton and I had the opportunity to visit and enjoy an afternoon tea at a very unique tea salon, the Crown and Crumpet in San Francisco.  This little special tea place is located at Ghirardelli Square, overseeing the pier and the San Francisco Bay. This was actually our second time there. When we last visited SF two years ago I was extremely attracted by their window display and purchased their Strawberry Oolong tea.  The tea was so good that I promised to go back again to buy some more next time I went.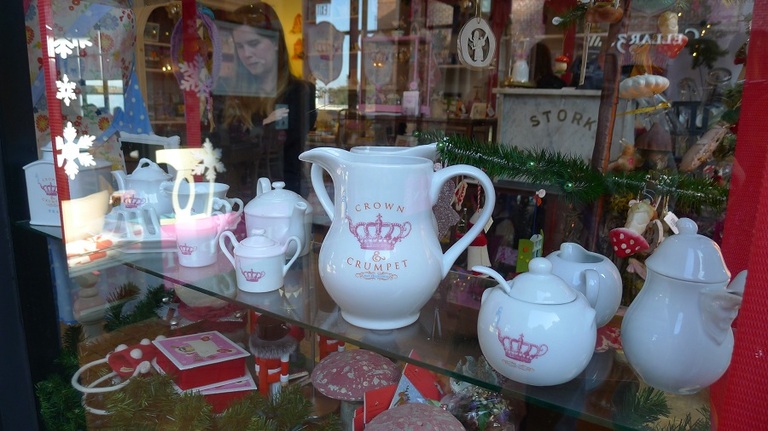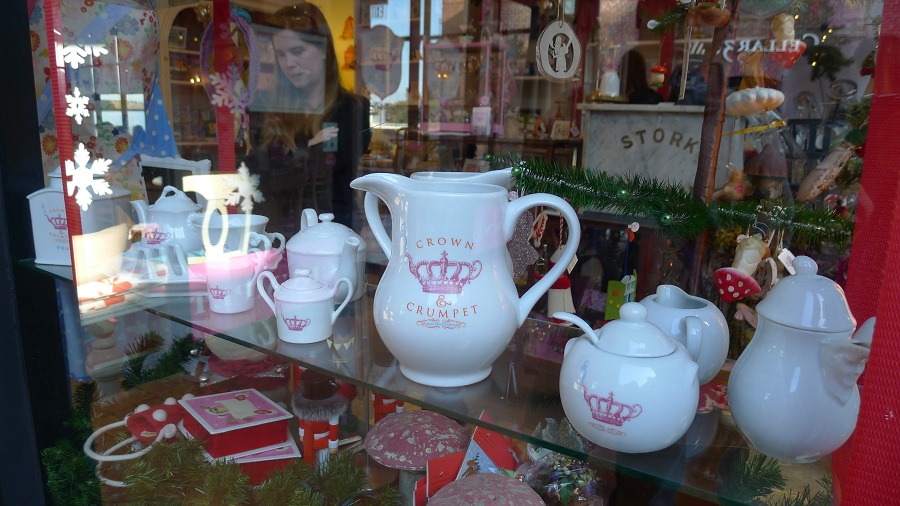 The owner, Amy Dean, dresses up her store in style with antiques, artwork and beautiful teaware.  From the menus to the table linens to wall decor to teapots, everything in the store made you feel like you've entered into a magical world.  There were 2 birthday parties going on while we were there.
The tea sandwiches were extremely delicious and the service was great.  Amy was very friendly and told us that we could email her to place orders until her online store is up and running.  We've even stocked up some more strawberry oolong tea again to share with our friends back in Toronto!  Although there are lots of great places for afternoon tea in Toronto, there isn't one that's quite like the Crown & Crumpet.
By the way, The Library Bar at The Fairmont Royal York will host traditional English Tea during the live broadcast of the Royal Wedding of Kate Middleton and Prince William starting at 5 a.m. on Friday, April 29.  You can call the hotel to find out more information or make reservations by calling the hotel at 416-860-5004. Wouldn't it be nice to follow the Royal wedding in style and sipping a cup of English tea?
Cheers~!